Around the Town

by

Steve Zall and Sid Fish

May 2017

Here's what's happening this month on the Southern California theatre scene: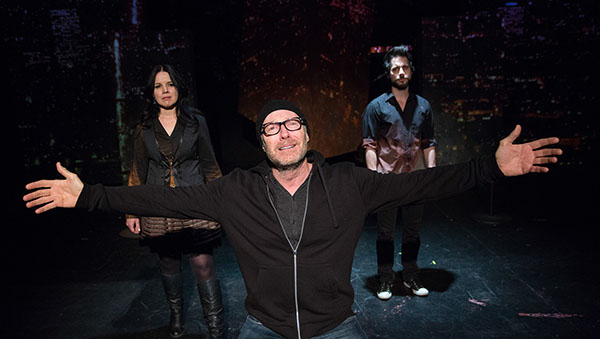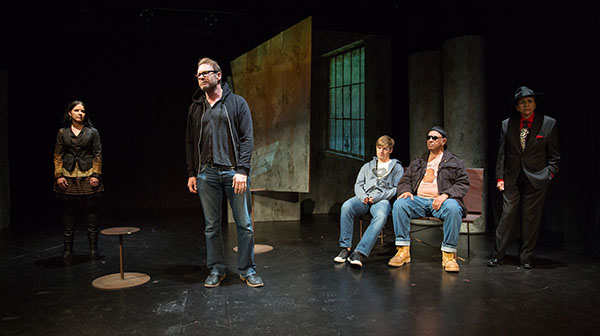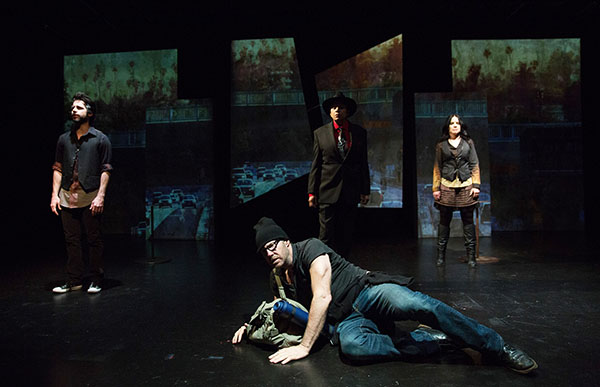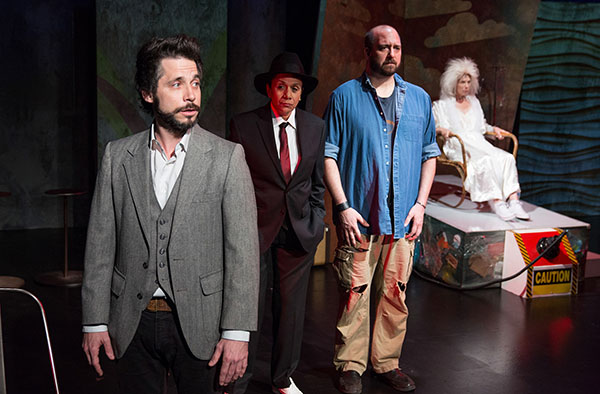 "The Gary Plays" chronicles the odyssey of unemployed actor Gary Bean, Mednick's everyman/anti-hero who has been hailed by KCRW as "a sort of L.A. Leopold Bloom." Audiences can choose to follow Gary's journey over the course of three evenings — or view all six plays on a single Sunday. Written by Murray Mednick, and directed by Guy Zimmerman, it runs May 4 through June 4 at the Atwater Village Theatre in Atwater. For tickets call 323-882-6912 or visit www.openfist.org.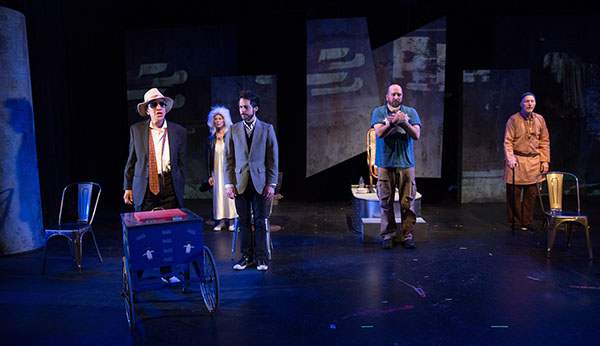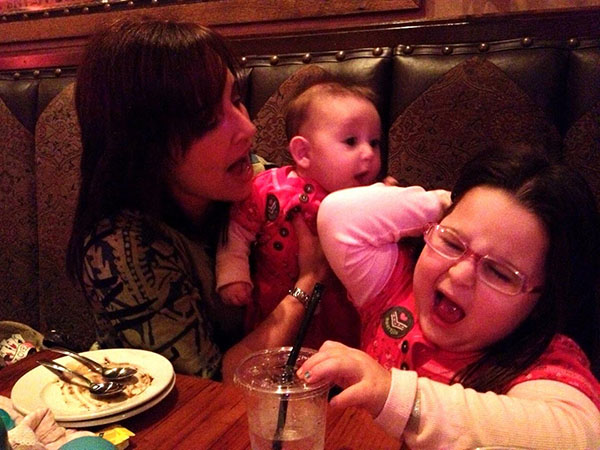 "Tales of Modern Motherhood: This Sh*t Just Got Real" is a heartfelt comedy about the uncertainties of becoming a parent, the FEAR of being a parent, and the reservations of why I didn't just settle for a dog. It addresses the good, the bad and the ugly truth about what really happens behind closed doors and gives a very honest perspective on the hardest job in the world, PARENTING! Written by Pam Levin, and directed by Mark Hatfield, it runs May 4 through June 15 at the Other Space at Santa Monica Playhouse in Santa Monica. For tickets call 800-838-3006 or visit www.talesofmodernmotherhood.com.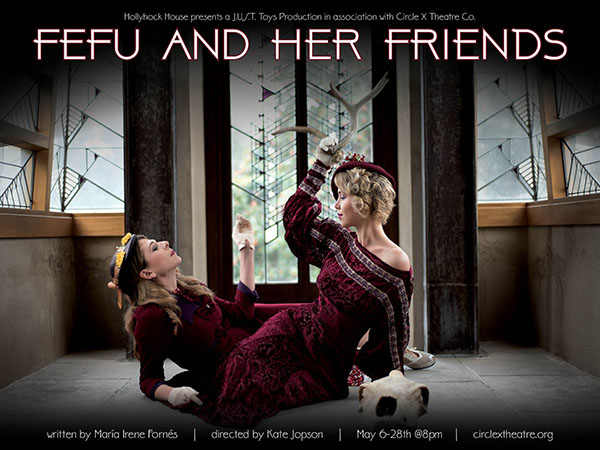 "Fefu and Her Friends" On a seemingly ordinary day, a group of women gather to plan a philanthropic fundraiser. As the evening unwinds, the world dips into the surreal and their secrets, fears, and frustrations with society and each other come to light. Featuring an international cast of women, Fornés' 1977 play explores how women across the world are subtly pressured to conform to an ideal of meekness and femininity. Written by María Irene Fornés, with music by Daniel Szabo, and directed by Kate Jopson, it runs May 5 through May 28 at the Hollyhock House in Los Angeles. For tickets visit www.circlextheatre.org/fefu.


"Hello Again" is based on the 1897 play La Ronde by Arthur Schnitzler. It focuses on a series of love affairs among 10 characters during the 10 different decades of the 20th century. LaChuisa's musical adaptation follows the structure of Schnitzler's original material closely, often replicating fragments of his dialogue, detailing a daisy chain of sexual encounters and love affairs. Unlike the book, each scene is set in a different decade of the 20th century and in non-chronological order, allowing for a large and varied pastiche of musical styles ranging from opera to 1970s disco. Written by Michael John LaChiusa, with music by Brenda Varda, and directed by Richard Van Slyke, it runs May 5 through May 28 at the Chromolume Theatre at the Attic in Los Angeles. For tickets call 323-205-1617 or visit www.crtheatre.com.


"Man of La Mancha" tells the poignant story of Don Quixote and his pursuit of the impossible dream. His dream is Everyman's dream. His tilting at windmills is Everyman's adventure. Celebrating life – not as it is, but as it should be – is at the heart of this inspiring and unforgettable musical. The Spanish-influenced score is a musical delight, containing the magnificent and uplifting anthem to all that is best in us: THE IMPOSSIBLE DREAM. Remember what it is to believe in all that is noble, heroic and romantic with this rousing classic. Written by Dale Wasserman, with music by Mitch Leigh, lyrics by Joe Darion, and directed by Glenn Casale, it runs May 5 through May 7 at the Valley Performing Arts Center in Northridge. For tickets call 818-677-3000 or visit www.ValleyPerformingArtsCenter.org.


"The Monster Builder" follows Rita and Dieter, young architects, who are thrilled to meet Gregor. He's the world's most celebrated architect, whose buildings rise from the earth like twisted post-post-modern megaliths. So why has he taken on the remodel of a decaying boathouse, a project that was supposed to go to Rita and Dieter? They're ready for a confrontation and to defend what they value: historic preservation and human-scale buildings. But nothing prepares them for the truth about their idol. Written by Amy Freed, and directed by Art Manke, it runs May 5 through June 4 at the South Coast Repertory in Costa Mesa. For tickets call 714-708-5555 or visit www.scr.org.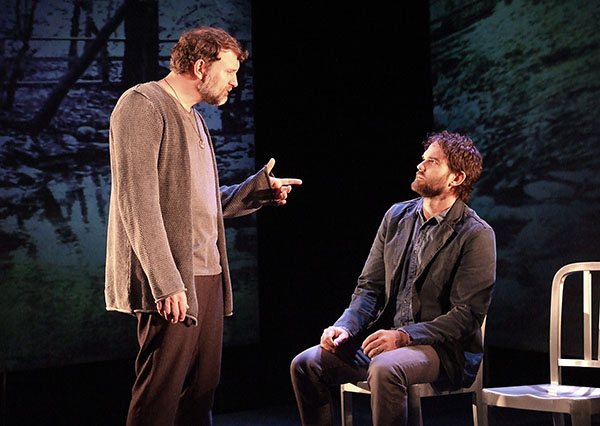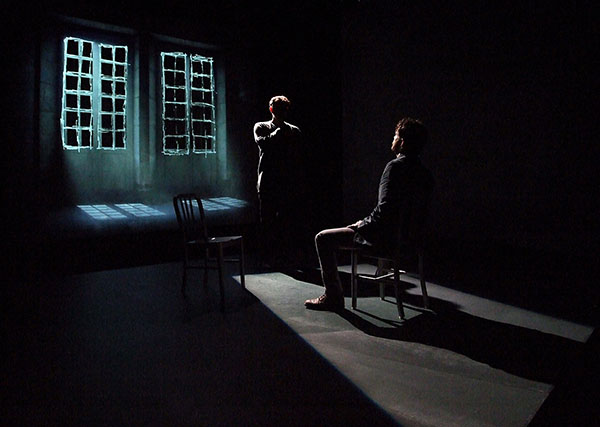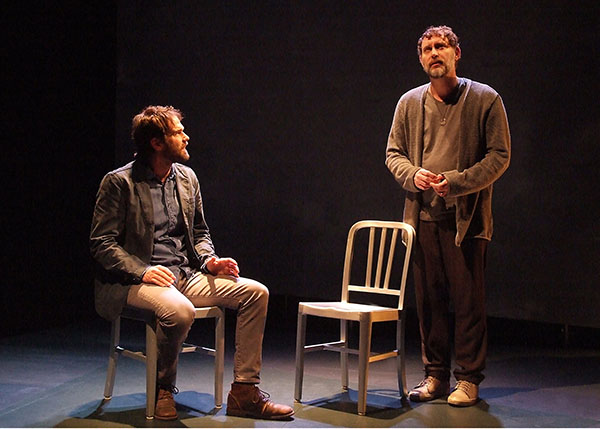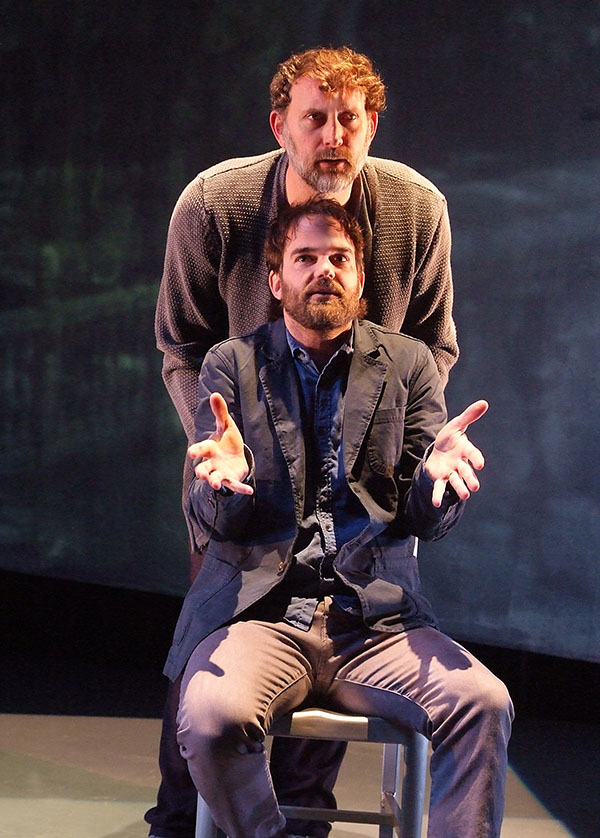 "The House in Scarsdale: A Memoire for the Stage" Dan O'Brien traces the roots of his family's particular unhappiness to learn why his parents and siblings cut him off years ago. The more Dan learns about his family, the more mysterious the circumstances surrounding their estrangement become, until his world is shaken when rumors surface that his real father might be another member of the family. Ultimately, Dan must decide if his pathological pursuit of the truth is worth the risk or should he follow the advice of a psychic and make his life a never-finished work of art. Written by Dan O'Brien, and directed by Michael Michetti, it runs May 6 through June 4 at the Theatre @ Boston Court in Pasadena. For tickets call 626-683-6883 or visit www.bostoncourt.com.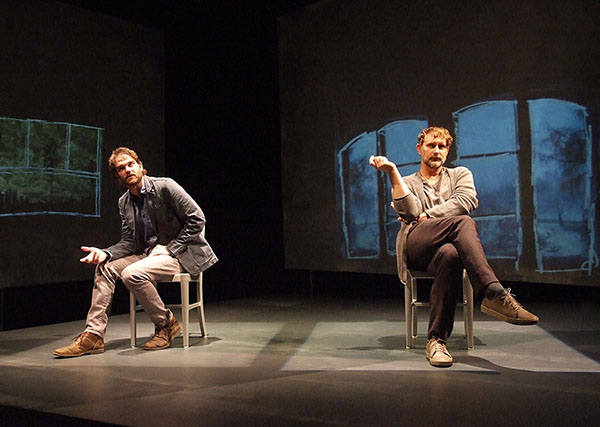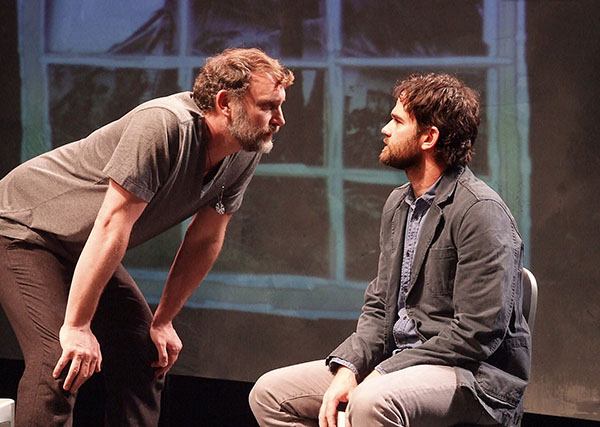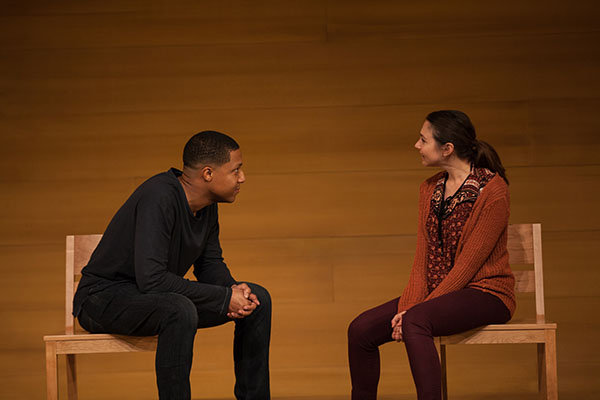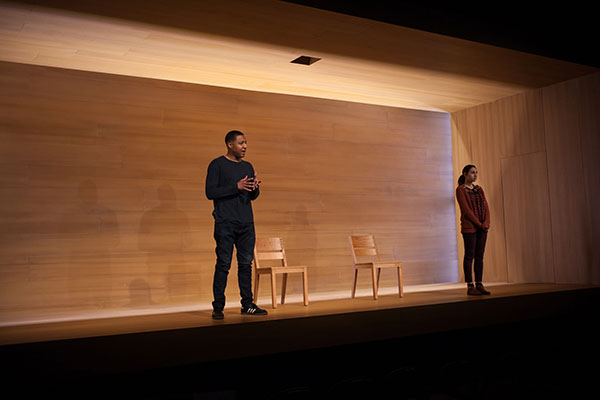 "Actually" is the story of Amber and Tom, who, finding their way as freshmen at Princeton, spend a night together that alters the course of their lives. They agree on the drinking, they agree on the attraction, but consent is foggy, and if unspoken, can it be called consent? Actually invites the audience to explore the complex dynamics of sexual assault and consent. Written by Anna Ziegler, and directed by Tyne Rafaeli, it runs May 10 through June 11 at the Audrey Skirball Theater at the Geffen Playhouse in Los Angeles. For tickets call 310-208-5454 or visit www.geffenplayhouse.org.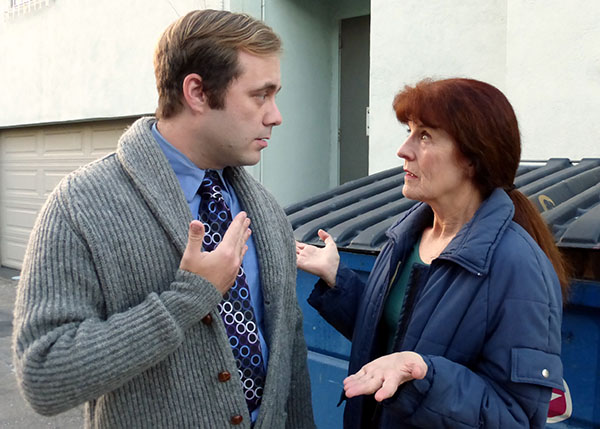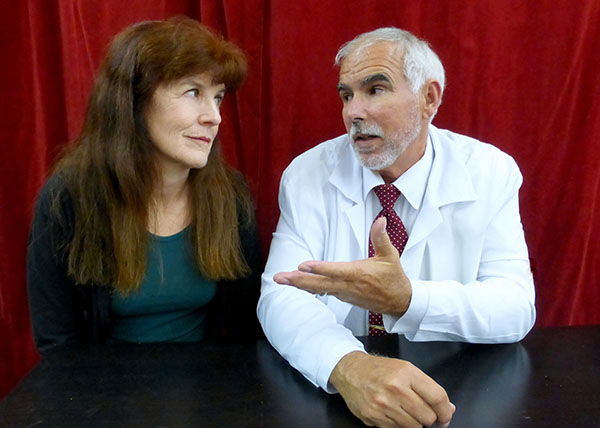 "Good People" centers on life in South Boston, a working-class neighborhood on hard times, which is no joke for single mother Margaret Walsh. Fired from her job, facing eviction and with nowhere to turn, she and her grown, disabled daughter, represent a large portion of today's society. Will she get a break from her young manager at the Dollar Store or the landlady with a craft business selling googly-eyed rabbits, or the man from her past, now a successful doctor, who left town at a crucial moment long ago? Written by David Lindsay-Abaire, and directed by Gail Bernardi, it runs May 12 through June 17 at the Westchester Playhouse in Westchester. For tickets call 310-645-5156 or visit www.kentwoodplayers.org.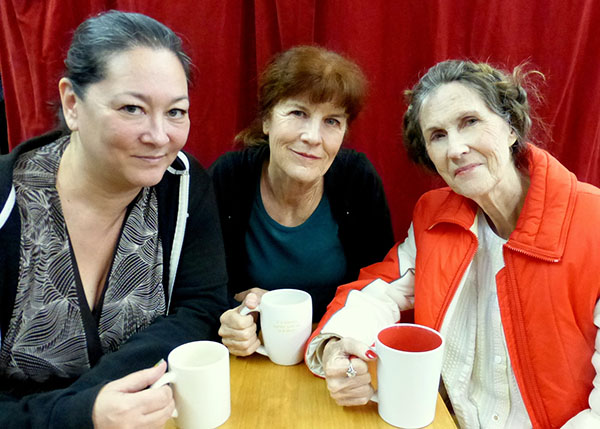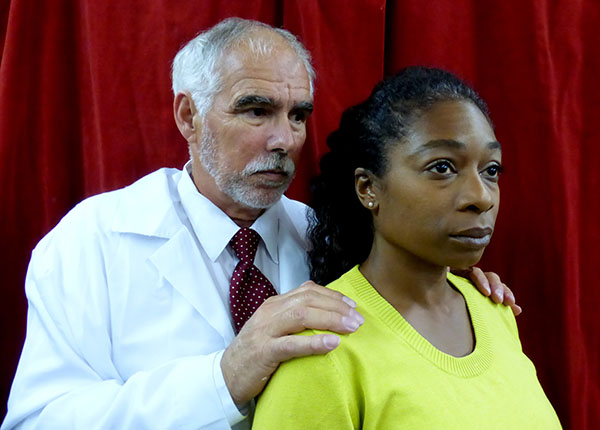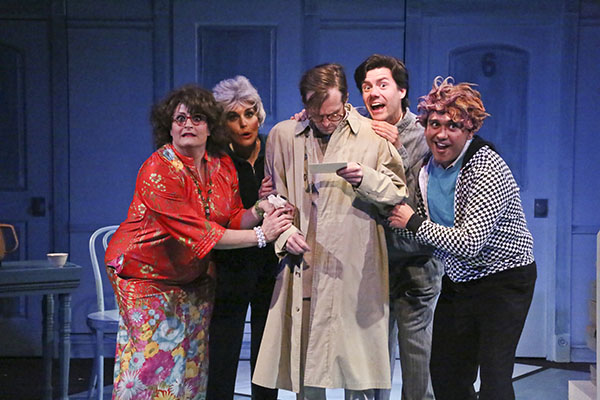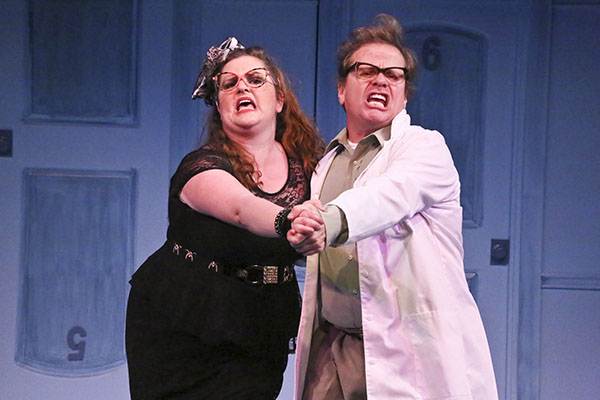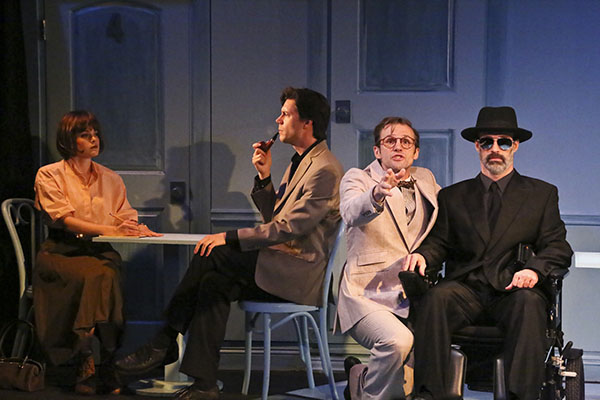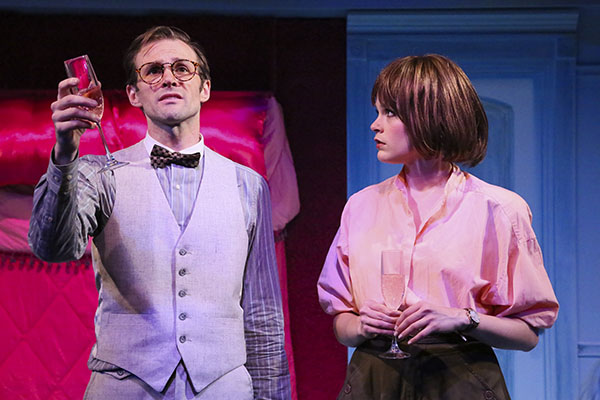 "Lucky Stiff" a hilarious musical murder mystery farce mixing diamonds, mistaken identities and a body in a wheelchair (oh, and puppies!), in this all singing, all dancing, killer musical comedy!  In fact, you'll die laughing! Written by Lynn Ahrens, with music by Stephen Flaherty, lyrics by Lynn Ahrens, and directed by Stephen Van Dorn, it runs May 12 through June 18 at the Actors Co-op David Schall Theatre in Hollywood. For tickets call 323-462-8460 or visit www.ActorsCo-op.org.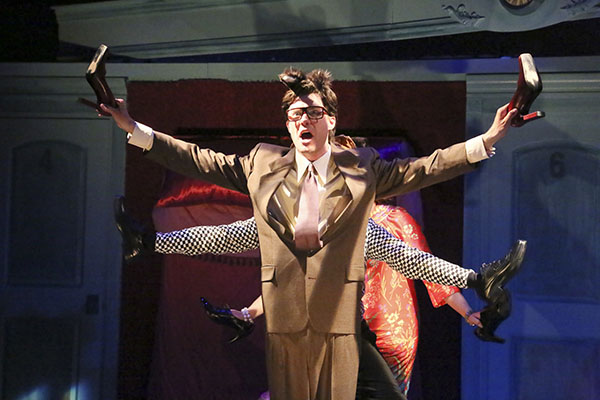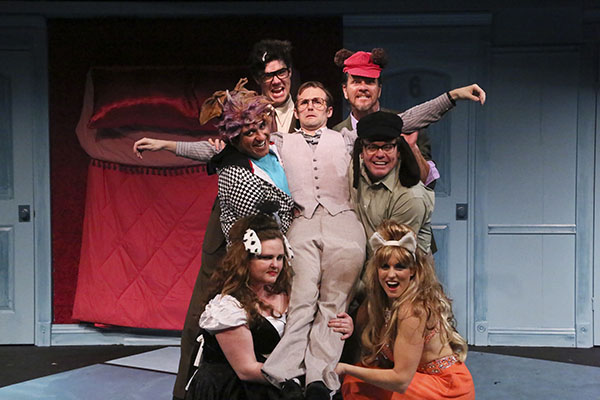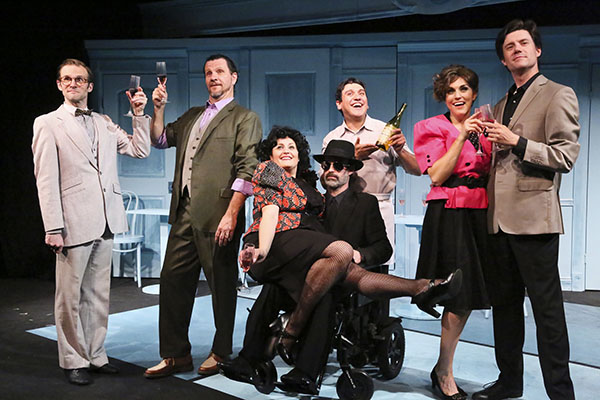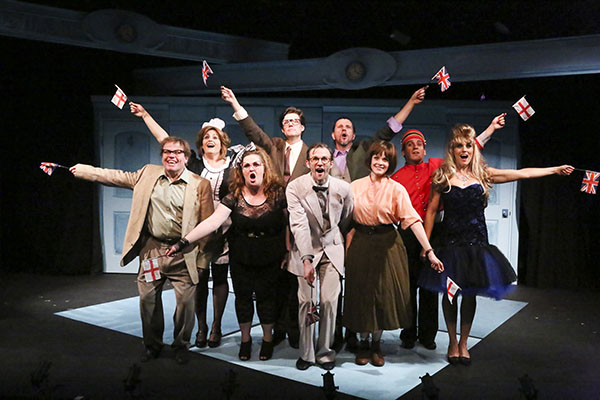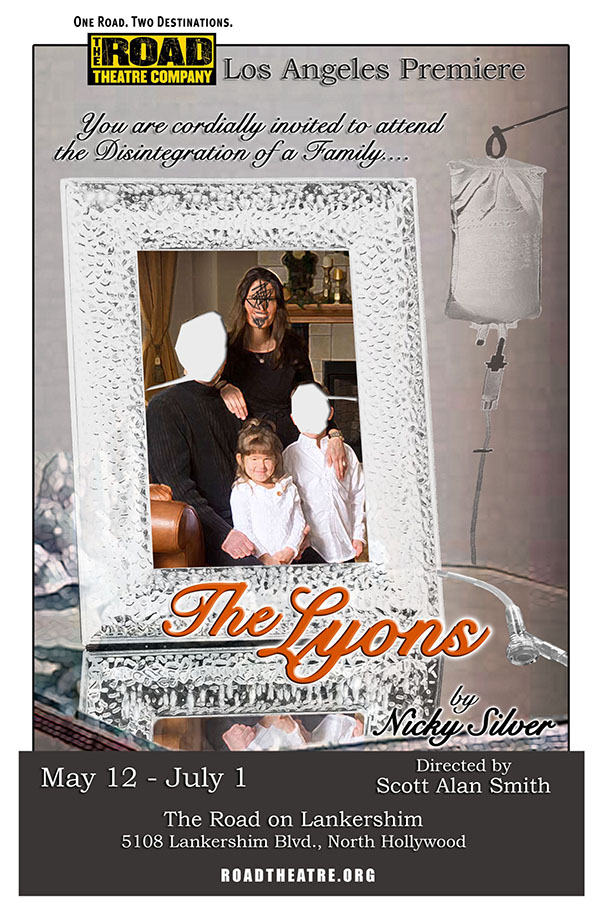 "The Lyons" In this scathingly funny look at a family in crisis, the Lyons family is falling apart just when they need to pull together. Rita Lyons, in a heroic effort to keep the family united while her husband, Ben, is dying of cancer, has called their grown children together to say good-bye around his hospital bed. In the ensuing maelstrom of kvetching, guilt-giving, and recriminations, they discover that despite being a family, each of them is utterly isolated. Afraid of closeness and afraid of solitude, the Lyons are unexpectedly propelled into foreign territory- human connection. Written by Nicky Silver, and directed by Scott Alan Smith, it runs May 12 through July 1 at the Road on Lankershim in North Hollywood. For tickets call 818-761-8838 or visit www.roadtheatre.org.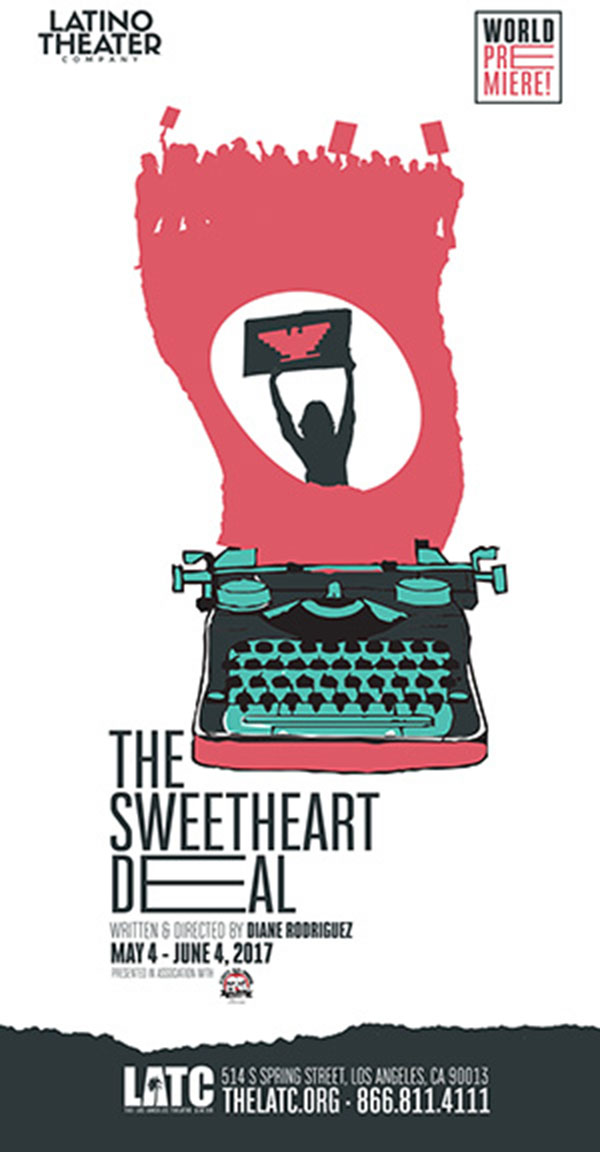 "The Sweetheart Deal" 1970 was a tumultuous time for Cesar Chavez and the United Farm Workers. Obie Award-winning writer/director Diane Rodriguez traces the history of the UFW through the eyes of two journalists who leave their comfortable middle class life in San Jose to volunteer for El Malcriado, the underground newspaper founded by Chavez and Dolores Huerta. Written and directed by Diane Rodriguez, with music by Sage Lewis, it runs May 12 through June 4 at the Los Angeles Theatre Center in Los Angeles. For tickets call 866-811-4111 or visit www.thelatc.org.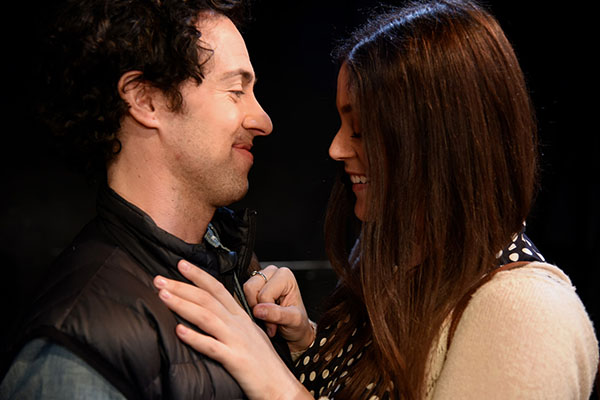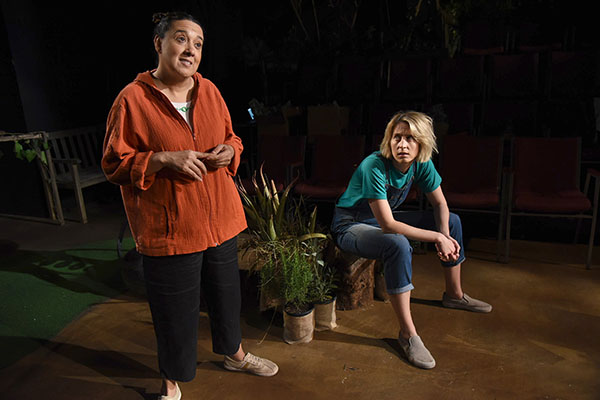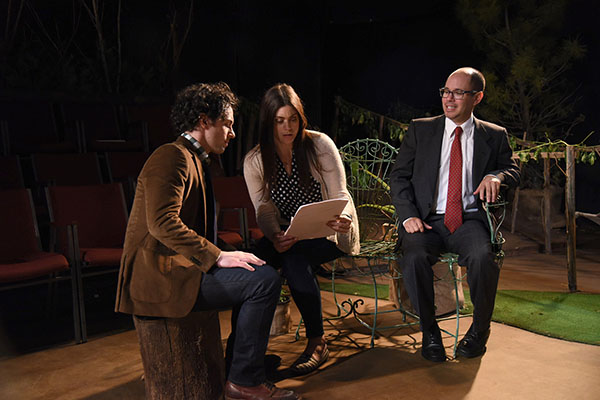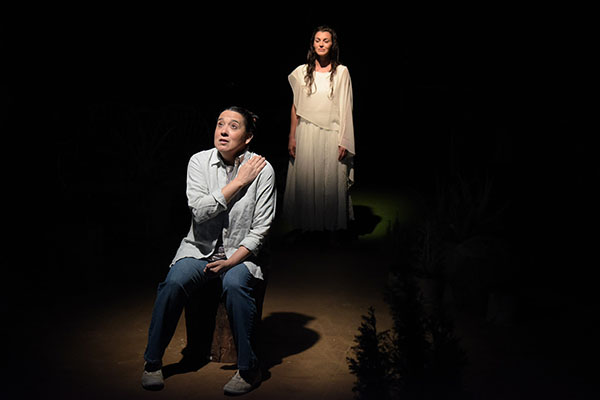 "Species Native to California" For a decade, two families—one white and progressive, one undocumented—have lived together on a Northern California wine country estate in something like harmony. But political changes and financial mishaps leave them both suddenly facing uncertain futures. As everyone clamors to save the estate, a vengeful ghost haunts the fruitless vineyard intent on breaking the balance. Mexican folklore meets Mendocino County in this homage to Chekhov's The Cherry Orchard. Performed in English with a liberal sprinkling of Español. Written by Dorothy Fortenberry, and directed by Eli Gonda, it runs May 13 through June 11 at the Atwater Village Theatre in Atwater. For tickets call 323-380-8843 or visit www.iamatheatre.com.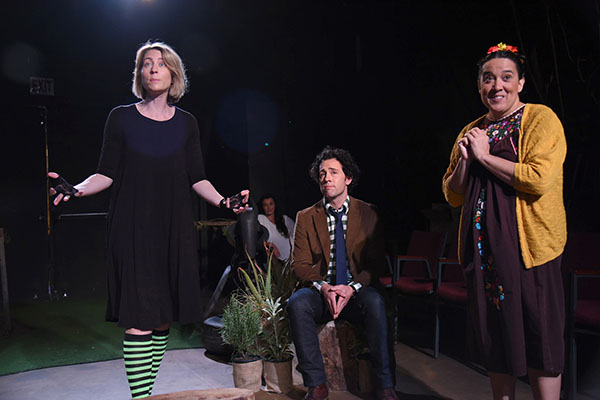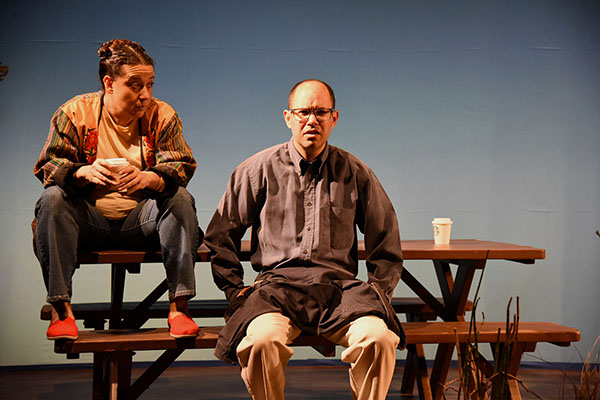 "Five Guys Named Moe" is an exuberant, international hit musical pays tribute to the music of rhythm and blues pioneer Louis Jordan. Written by Clarke Peters, with music by Louis Jordan, and directed by Keith Young, it runs May 18 through June 11 at the Nate Holden Performing Arts Center in Los Angeles. For tickets call 323-964-9766 or visit www.ebonyrep.org.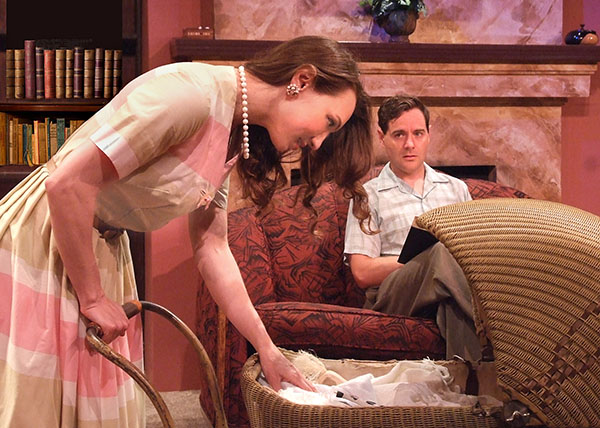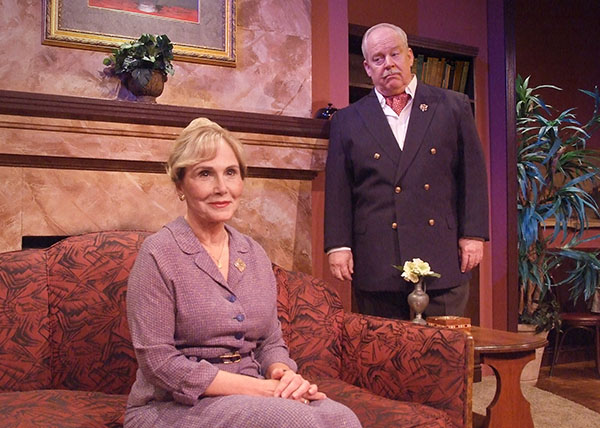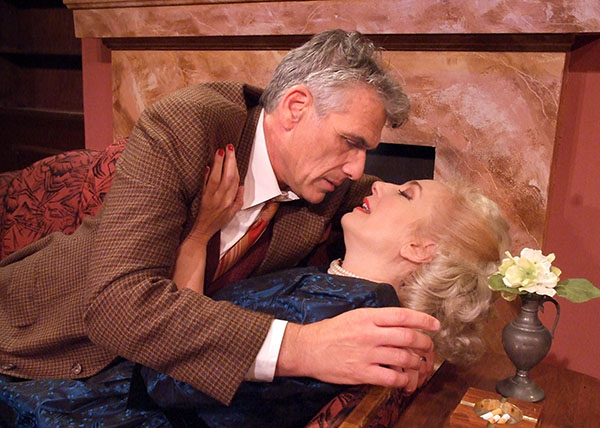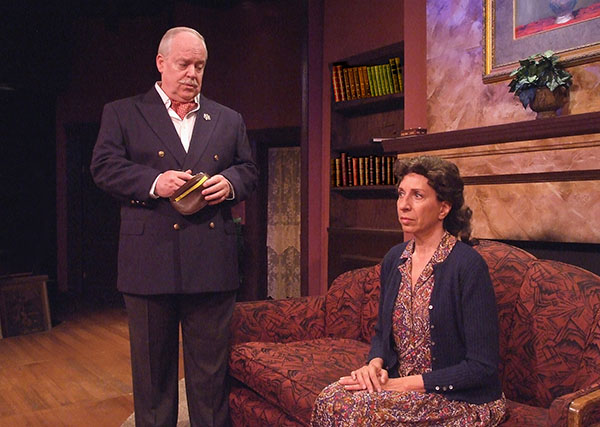 "Separate Tables" is actually a compilation of two short plays. The two pieces share a location, a dining room in a residential hotel in Bournemouth, England, and also share some of the same characters. In the first act, Table by the Window, an alcoholic left-wing writer loves the female manger of the hotel. Their world is rocked when the man's ex-wife, a glamorous model dreading the approach of her middle age, checks into the hotel. The model has her ex in her sights. What will he do? In the second act, Table Number Seven, an ex-Army man enjoys the company of a spinster. They have things in common: Both are afraid of life and of other people in particular. When the woman's manipulative, domineering mother exposes the man's hidden sins, will she succeed in driving the soldier and the spinster apart? Written by Terence Rattigan, and directed by Jules Aaron, it runs May 18 through June 18 at the Theatre 40, in the Reuben Cordova Theatre in Beverly Hills. For tickets call 310-364-0535 or visit www.theatre40.org.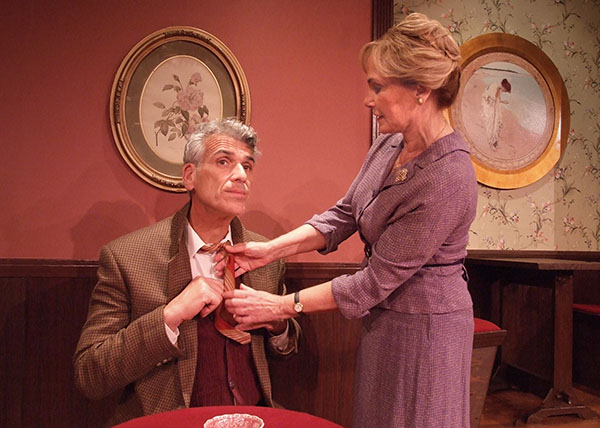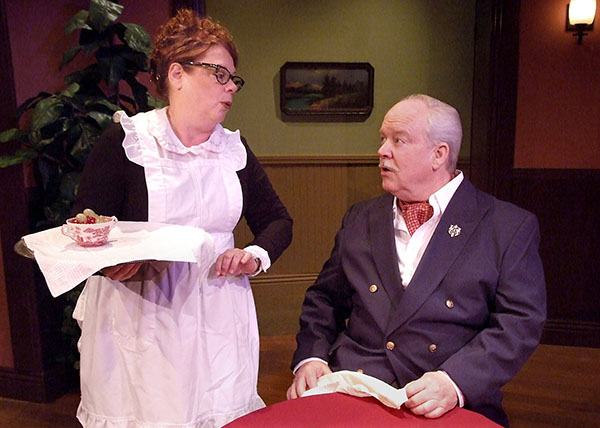 "Annie Get Your Gun" This show hits the target with every song and dance! It's the story of Annie Oakley, one of the Old West's greatest marksmen, and Frank Butler, who was also renowned for his amazing shooting ability. Both proud and headstrong, they compete against each other and eventually fall in love! It's tons of fun from start to finish and of course, filled with some of Irving Berlin's greatest hits! You're going to love this show! Written by Dorothy Fields and Herbert Fields, with music by Irving Berlin, and directed by Tim Dietlein, it runs May 19 through July 1 at the Glendale Centre Theatre in Glendale. For tickets call 818-244-8481 or visit www.glendalecentretheatre.com.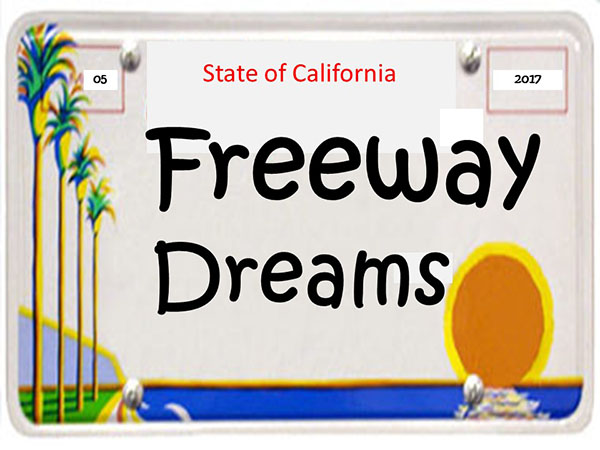 "Freeway Dreams" a musical about commuters, stuck in freeway traffic, and as they wait for the gridlock to disperse they begin to daydream, their dreams emerging through songs such as 'Manic-Depressive Blues,' 'A Big Woman Needs A Big Man,' '…And A Pizza To Go,' 'My Superman' and 'What If The Other Guy Wins?' hitting the mark in satirizing the L.A. lifestyle. Written by Wayne Moore, with music by Wayne Moore, and directed by Jim Blanchette, it runs May 19 through June 11 at the Write Act Repertory @ Brickhouse Theatre in North Hollywood. For tickets call 800-838-3006 or visit www.brownpapertickets.com.


"I Carry Your Heart" Phoebe is a young poet, forever living in the shadow of her estranged mother's literary acclaim. When her mother unexpectedly dies Phoebe is left with two complicated legacies: donating her mother's organs and reading her mother's unpublished confessional journal. Meanwhile, Tess and her partner Lydia receive an early morning phone call, informing them that a donor heart is available for Tess – good news, but news that has come far sooner than they were prepared for. As these two families form an unlikely connection, they struggle to understand the politics and poetics of organ donation—and they dare to hope that pieces of us can live on after great tragedy. Written by Georgette Kelly, and directed by Jessica Hanna, it runs May 19 through June 10 at the Bootleg Theater in Los Angeles. For tickets visit www.bootlegtheater.org.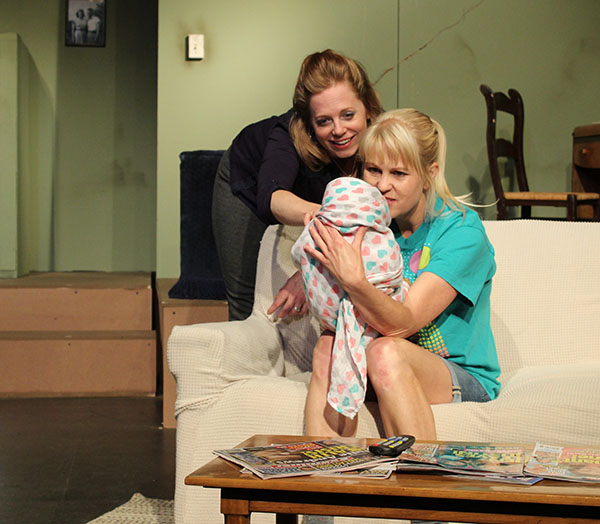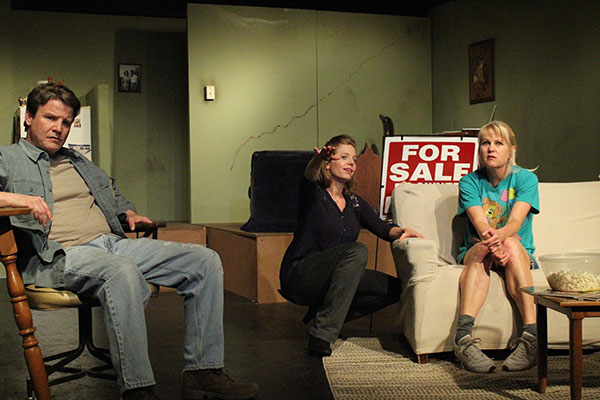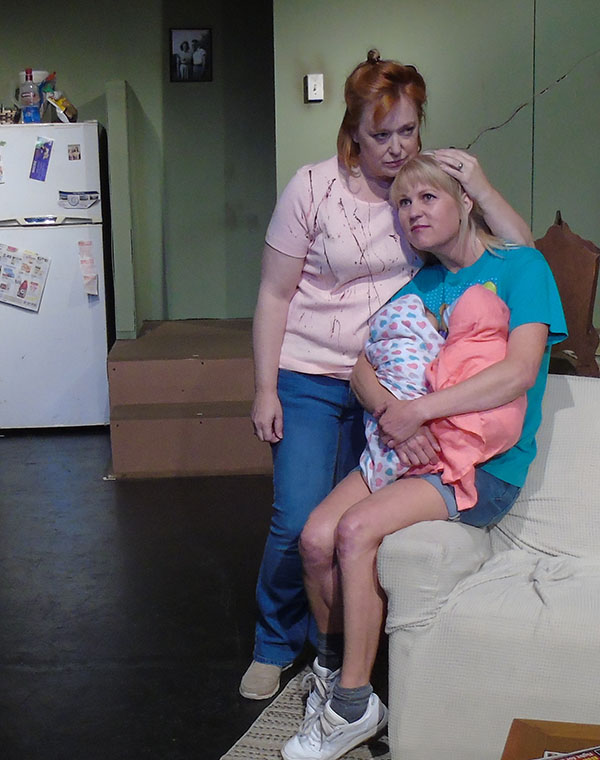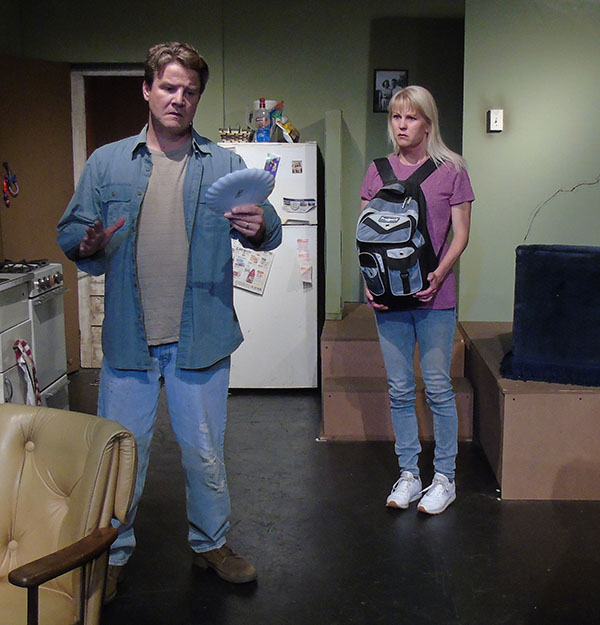 "Long Way Down" The darkly comic and harrowing story of Maybelline Ferris, a damaged young woman living with her pregnant sister Saralee and her forlorn husband, Duke, in their run-down family home north of Nashville. As the play begins, Karen, a close friend of Maybelline's jailed older sister, marches into the house with the news that Doolee James kid came into Kindercastle today with a black eye. Doolee is beating her child. That accusation starts a chain of events that set the entire Ferris family into a downward spiral towards the plays stunning conclusion. Written by Nate Eppler, and directed by Steve Jarrard, it runs May 19 through June 18 at the Sherry Theatre in North Hollywood. For tickets call 323-860-6569 or visit www.longwaydown.brownpapertickets.com.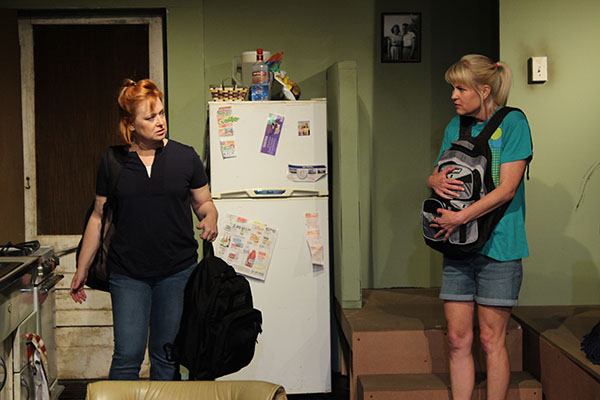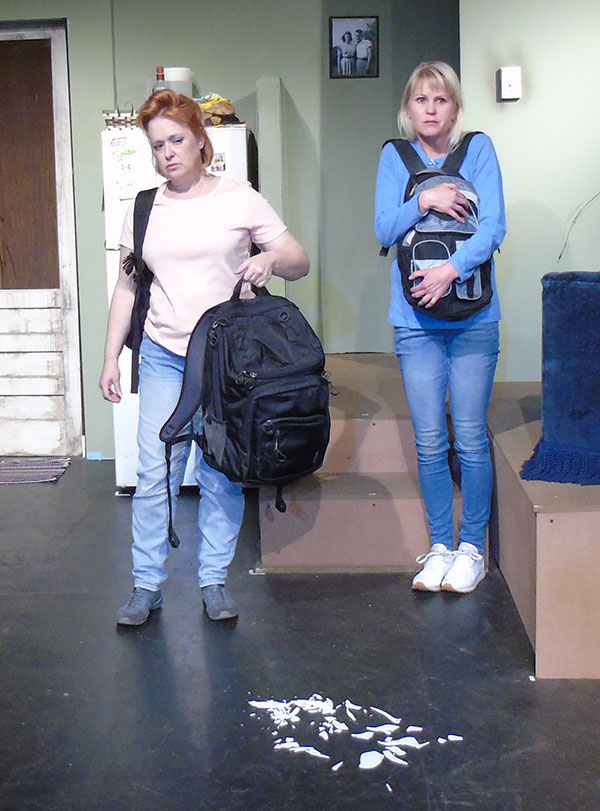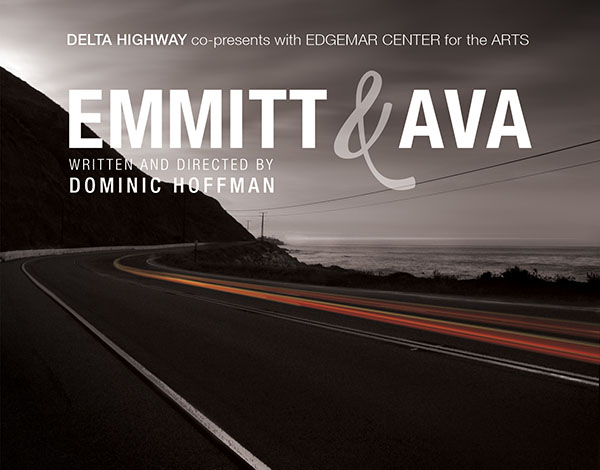 "Emmitt & Ava" a contemporary tale of love and loss. Two families, unacquainted with one another, suddenly find themselves forced to communicate on most intimate terms. Emmitt and Ava is a play as dynamic as it is relevant. Written and directed by Dominic Hoffman, it runs May 20 through June 18 at the Edgemar Center for the Arts in Santa Monica. For tickets visit www.brownpapertickets.com/event/2907900.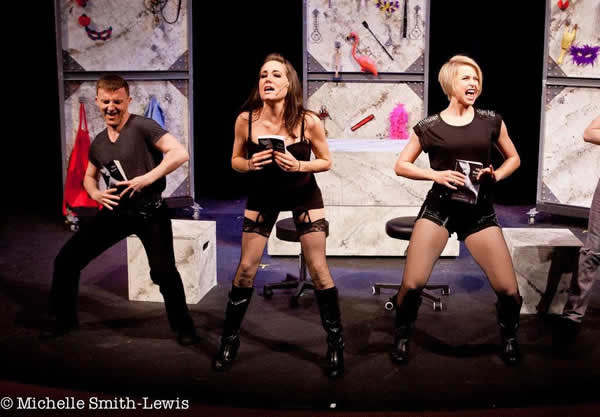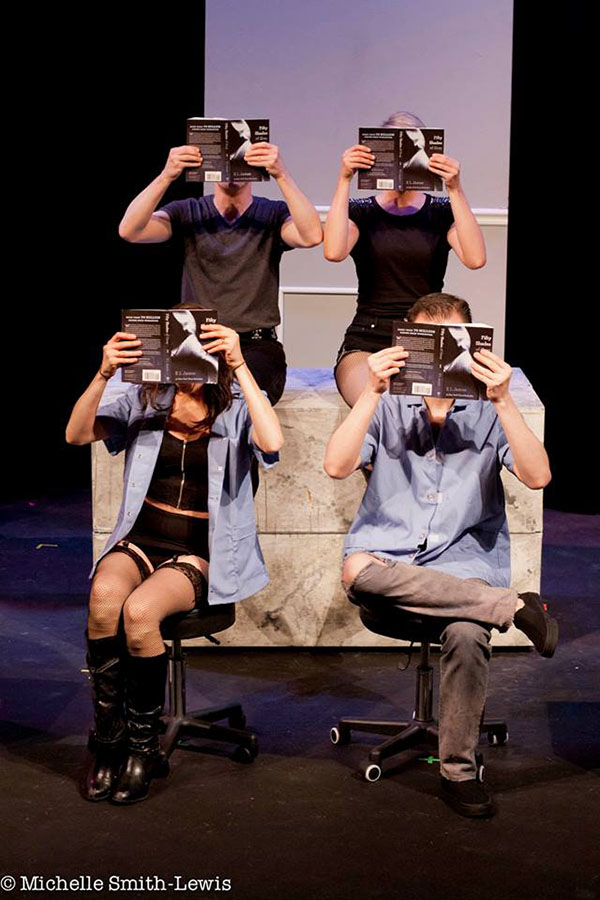 "Cuff Me: The Fifty Shades of Grey Musical Parody" is the hilarious parody of the Fifty Shades of Grey bestselling book/movie/t-shirt phenomenon!  Grab your bestie, your entourage, and that family member that always drinks a little too much and get ready to laugh at this irreverent, hysterical romp in an evening of goofy, satirical fun. The show bounces between nail salon gossip and an exaggerated telling of the erotic novel while the cast of four belt out parodies of songs like "Hit Me Baby" and "Call Me Maybe" while spoofing Fifty Shades of Grey! Written by Bradford McMurran, Jeremiah Albers, and Sean Michael Devereux, it runs May 23 through May 28 at the El Portal Theatre in North Hollywood. For tickets call 818-508-4200 or visit www.elportaltheatre.com.


"Battlefield" begins as the devastation of war is tearing the Bharata family apart. The victorious new king must unravel a mystery: how can he live with himself in the face of the devastation and massacres that he has caused. Using just four actors and a musician, Battlefield has the economics of storytelling and the signature style of Peter Brook's theater. Battlefield is an immense canvas in miniature; this central section of the ancient Sanskrit text is timeless and contemporary, asking how we can find inner peace in a world riven with conflict. Written by Jean-Claude Carrière, and directed by Peter Brook and Marie-Hélène Estienne, it runs May 24 through May 28 at the Wallis Annenberg Center for the Performing Arts in Beverly Hills. For tickets call 310-746-4000 or visit www.TheWallis.org.


"S/He & Me" chronicles the unvarnished, complex, desperate, and often hilariously wacky story of Billings' life, centering on the transition from the young Scott to the show-stopping Alexandra. She carries the story forward through story and plenty of songs. Written by Alexandra Billings, and directed by Joanne Gordon, it runs May 25 through June 11 at the Renberg Theatre in Hollywood. For tickets call 323-860-7300 or visit www.lalgbtcenter.org/theatre.


"Les Blancs" depicts the waning days of colonialism crossing into the 20th century as it reveals the impossible moral choices faced by individuals who must reconcile personal happiness with idealism. It is rich with music and dance and set in and around a mission compound in Africa. The time is yesterday, today, and tomorrow-- but not very long after that. Written by Lorraine Hansberry, and directed by Gregg T. Daniel, it runs May 27 through July 3 at the Rogue Machine Theatre in Los Angeles. For tickets call 855-585-5185 or visit www.roguemachinetheatre.com.




...and, if you hurry, there's still time to catch these ongoing productions:





"Goonie" Today is Goonie's sixth birthday — her favorite number. Her father, Terry, is planning a day to remember: bouncy house, extinct animals, and a skywriting plane. With everything in place, what could possibly go wrong? Oh, that's right — THE DREAM TEAM — Terry's insane, needy, and borderline psychotic family could all show up, uninvited, and not only ruin Goonie's party but put Terry in an asylum before he even gets to the piñata. Written by Terry Maratos, and directed by Jim Anzide, it runs through May 5 at the Atwater Village Theatre in Atwater Village. For tickets call 323-839-5086 or visit www.gonnietheplay.com.


"Harlequino: On to Freedom" celebrates a particular kind of theater created by Italians 500 years ago, the Commedia dell'Arte, and explores the 16th century actors' limits of free expression in the authoritarian environment they lived in. As the story evolves, a conflict between a group of rogue actors and a Commedia dell'Arte expert becomes a battle for the soul of the Commedia, questioning the purpose of art, what is funny and who writes history. Ultimately the musical asks the question: What must the artist risk to live freely in today's world? Written and directed by Tim Robbins, it runs through May 6 at the Actors' Gang Theatre in Culver City. For tickets call 310-838-4264 or visit www.theactorsgang.com.


"King Lear" tells the story of an elderly King who has decided to end his reign and divide his country among his three daughters, Cordelia, Regan, and Goneril. The corrupt and deceitful Regan and Goneril tell him what they think he would most like to hear; the daughter that truly loves him, Cordelia, flatly but sincerely tells him an unvarnished truth – that she loves him as a daughter should. Lear disowns Cordelia, and splits the kingdom between Regan and Goneril, setting in motion the great tragedy that befalls all of the characters. Written by William Shakespeare, and directed by Julia Rodriguez-Elliott, it runs through May 6 at the A Noise Within in Pasadena. For tickets call 626-356-3100 or visit www.anoisewithin.org.


"Lone Star" brothers Roy and Ray take a drunken stumble down a memory lane littered with cars, stars, women and bars. Roy, a brawny Vietnam vet many years removed from the war, still can't find his place, so he spends his nights behind Angel's bar trying to get back to a place in his mind. Written by James McClure, and directed by David Fofi, it runs through May 7 at the Zephyr in Los Angeles. For tickets visit www.plays411.com/lonestar.


"The Originalist" When a bright, liberal law school graduate embarks on a difficult and challenging clerkship with Justice Antonin Scalia, she discovers him to be both an infuriating sparring partner and an unexpected mentor. As the country waits for Scalia's seat to be filled, this drama looks into the complexities of one of the most polarizing Supreme Court Justices of all times. This powerful work portrays the passionate people risking heart and soul to defend their interpretation of the truth, and the constitution. Written by John Strand, and directed by Molly Smith, it runs through May 7 at the Pasadena Playhouse in Pasadena. For tickets call 626-356-7529 or visit www.PasadenaPlayhouse.org.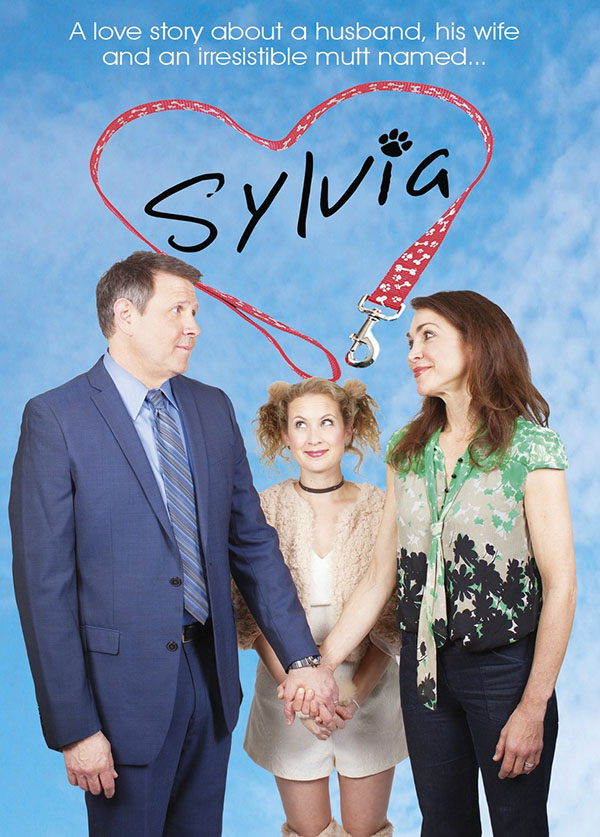 "Sylvia" Greg and Kate are empty-nesters in the big city. On a walk in the park, Greg is adopted by Sylvia, a bouncy, frisky poodle mix. But Kate comes to feel that she is losing Greg to his adoring new best friend who just loves to be petted, scratched, and talked to. This imaginative twist on Greg's midlife crisis leads to lots of laughs and some thoughtful insights into the nature of love, marriage, jealousy, and dogs. Written by A.R. Gurney, and directed by Stephanie A. Coltrin, it runs through May 7 at the Rubicon Theatre in Ventura. For tickets call 805-667-2900 or visit www.rubicontheatre.org.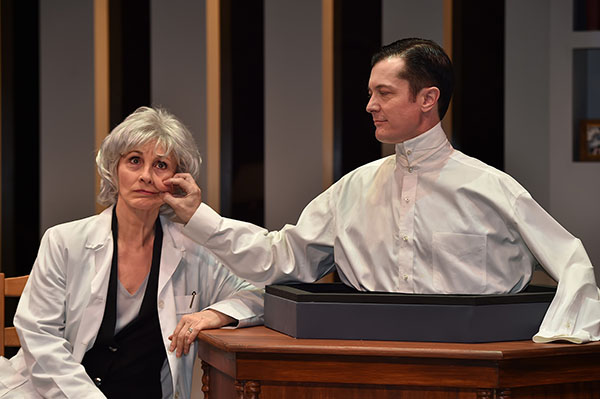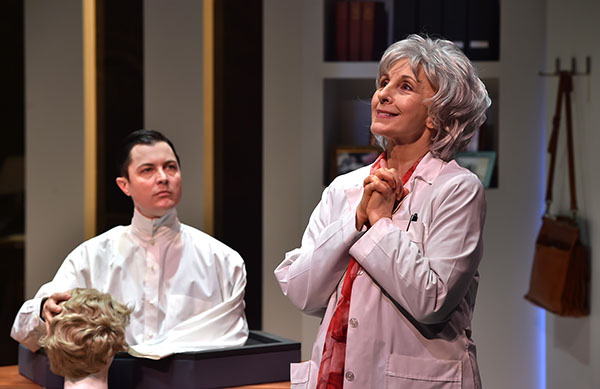 "Uncanny Valley" explores the inherent unpredictability of consciousness, as well as ethical questions about our own mortality and how far we'll go to live forever, in this fascinating and cerebrally challenging new play about artificial intelligence. Sometime in the not-too-distant future, a neuroscientist works closely with an artificial being to teach him how to become more human and to grow beyond the "uncanny valley" — a term used to describe the discomfort we feel when we see electronic recreations of human beings that are oh-so-close, but just not quite right. Written by Thomas Gibbons, and directed by Caryn Desai [sic], it runs through May 7 at the International City Theatre in Long Beach. For tickets call 562-436-4610 or visit www.InternationalCityTheatre.org.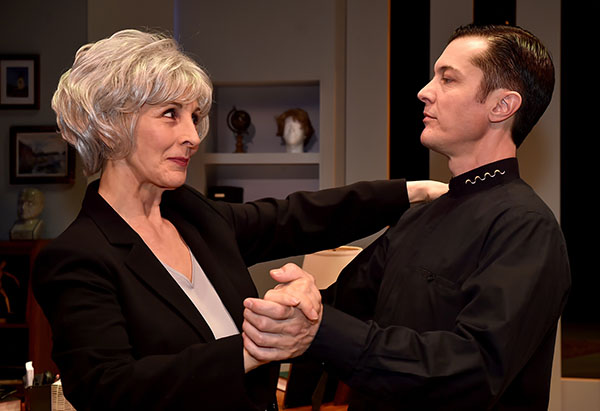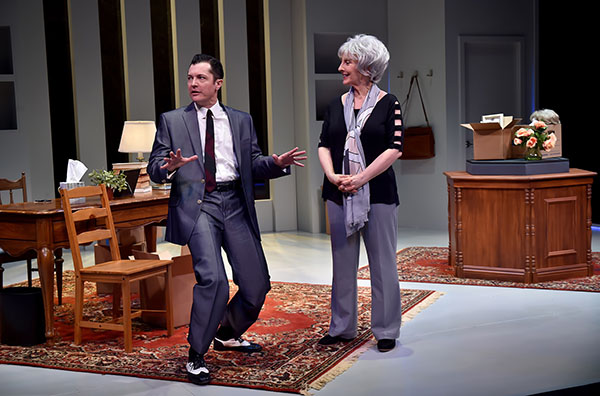 "God and Sex" A bride. A groom. A maid of honor (who just happens to be the Bride's ex-lover). What could possibly go wrong?! Santa Monica Playhouse presents the titillating bi-venture GOD and SEX - when the road to normal is getting you nowhere, maybe it's time to take a detour, a comedy-drama by Wendy Michaels. After spending many years in a lesbian relationship, Amy decides it would be easier to "be straight." The groom is Tim, her best buddy from high school who has loved her since the day they met. Assuming marriage and living a "normal, straight life" would be as easy as it appears in the movies, Amy commits to her goal of getting married to Tim. The couple's vision of the special day seems destined to go well until important details begin to crumble. Both desperate for their individual sexual and spiritual dreams to be realized, they plow forward and cling desperately to what they think they want, but divine intervention propels change in directions neither of them could have predicted. Bisexual, gay, straight, spiritual, atheist - all need apply - because GOD and SEX has something for everyone. Written by Wendy Michaels, and directed by Chris DeCarlo, it runs through May 13 at the Other Space at Santa Monica Playhouse in Santa Monica. For tickets call 310-394-9779 Ext. 1 or visit www.SantaMonicaPlayhouse.com/god-and-sex.html.


"The Importance of Being Earnest" This wonderful, colorful comedy of manners and mistaken identities is truly one of the classic comedies of all time. Most theater-goes agree that it is probably the wealthy young men who pretend, among other things, that they are both named Ernest in order to impress their beloveds. A surprise ending caps off the evening and all's well that ends well. We bring amazing energy and fun to our production and we guarantee you a great night at the theater. Written by Oscar Wilde, and directed by Zoe Bring, it runs through May 13 at the Glendale Centre Theatre in Glendale. For tickets call 818-244-8481 or visit www.glendalecentretheatre.com.


"Of Mice and Men" is a tale of two migrant field workers looking for work on the California coast during the Great Depression—the intelligent but frustrated George, and Lennie, a sweet, strong man with a mental disability and a knack for getting into trouble. As they continue to chase the classic American Dream of settling down on their own piece of land, the unlikely pair soon comes across other characters who share in their desperate search for companionship and something greater out of life. Written by John Steinbeck, and directed by Aaron Lyons, it runs through May 13 at the Belfry Stage Upstairs at the Crown in North Hollywood. For tickets call 818-849-4039 or visit www.theatreunleashed.org.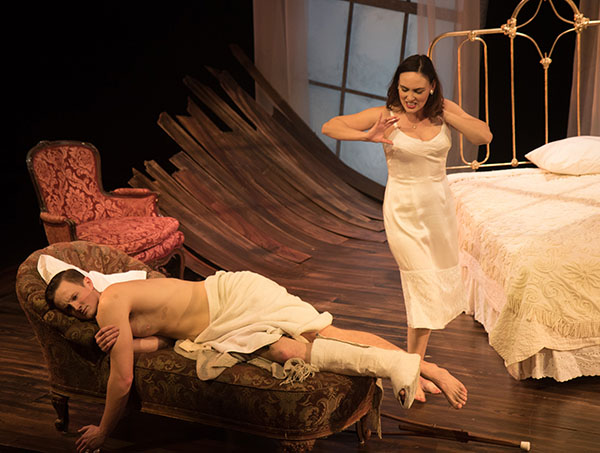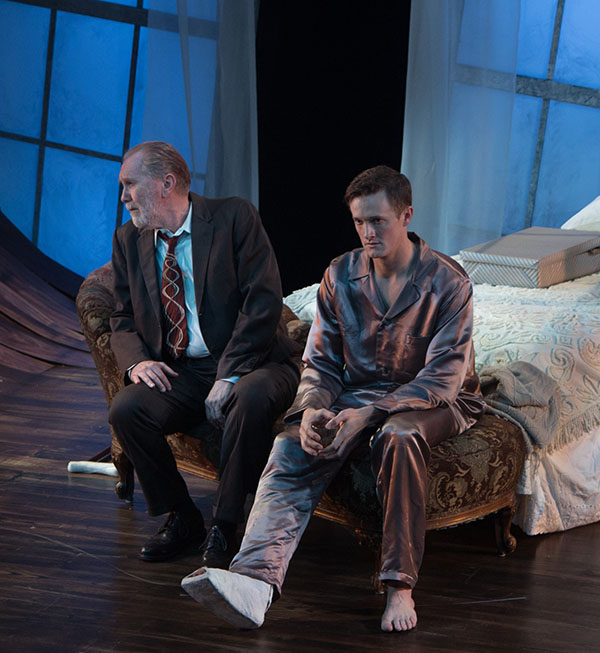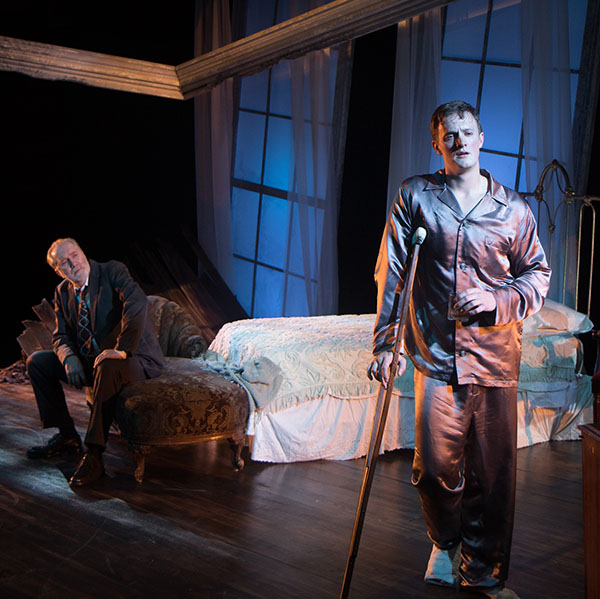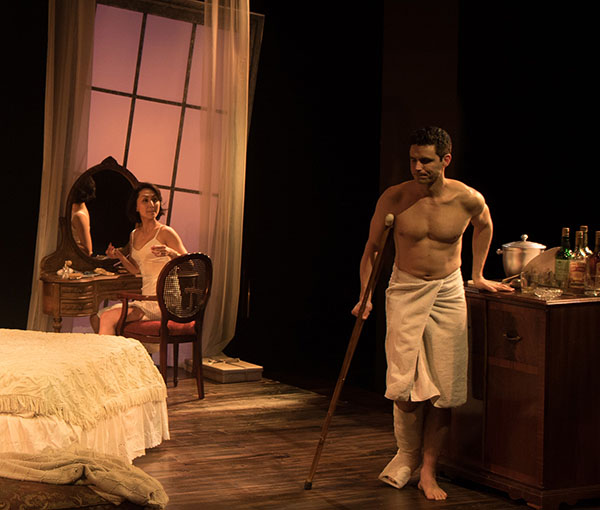 "Cat on a Hot Tin Roof" The Antaeus Theatre Company inaugurates its new home in Glendale with a fully partner-cast production of Tennessee Williams' Pulitzer Prize-winning masterpiece. In the steamy Mississippi Delta on a hot summer evening, members of a prominent Southern family are pushed to the brink when tender memories are relived and life altering secrets are revealed. Written by Tennessee Williams, and directed by Cameron Watson, it runs through May 14 at the Kiki & David Gindler Performing Arts Center in Glendale. For tickets call 818-506-1983 or visit www.Antaeus.org.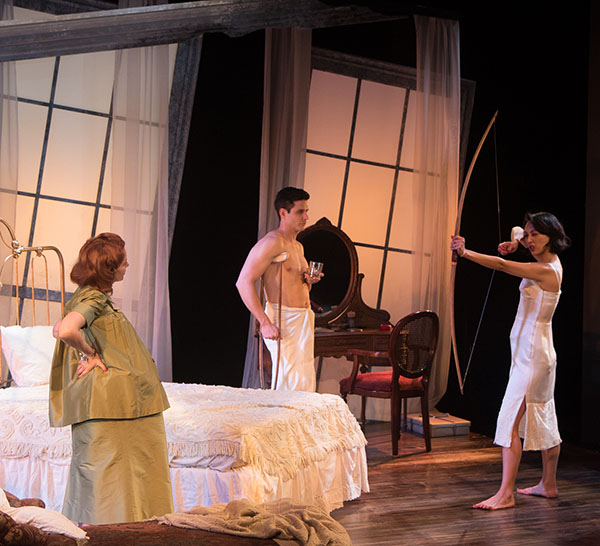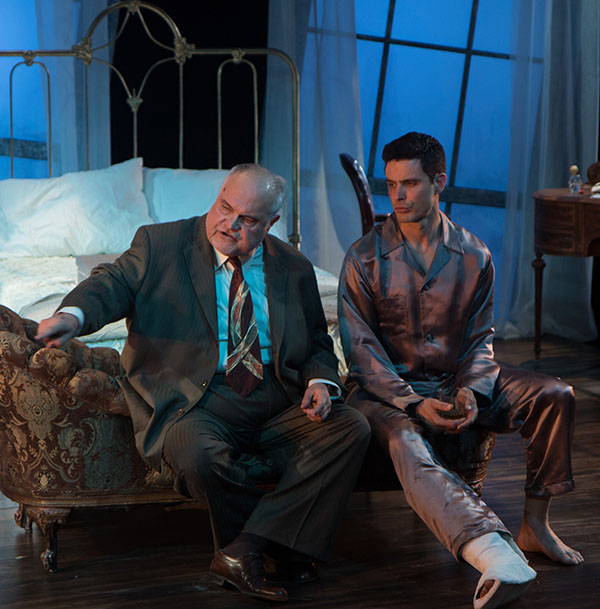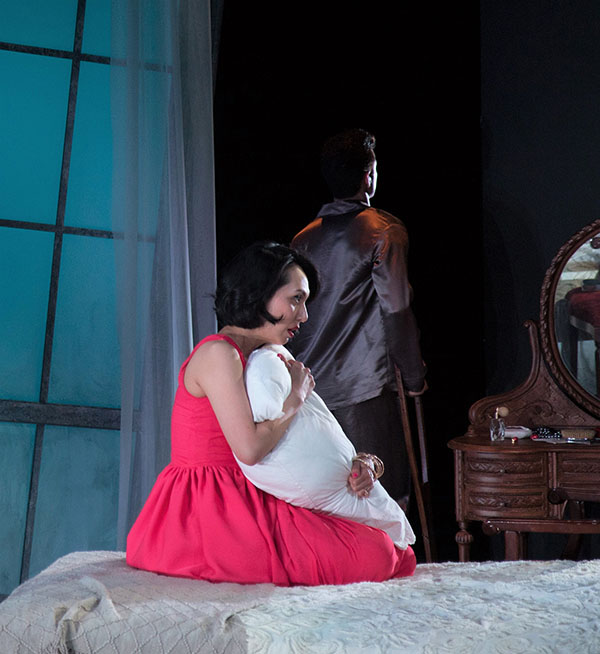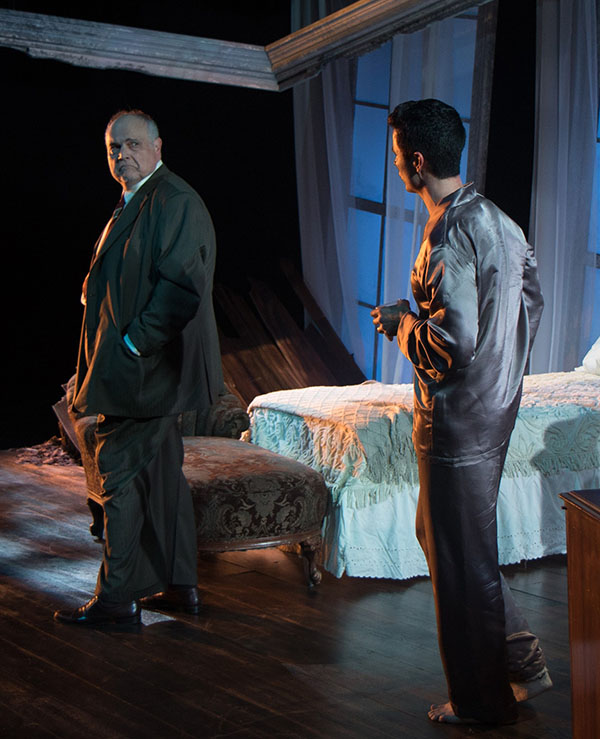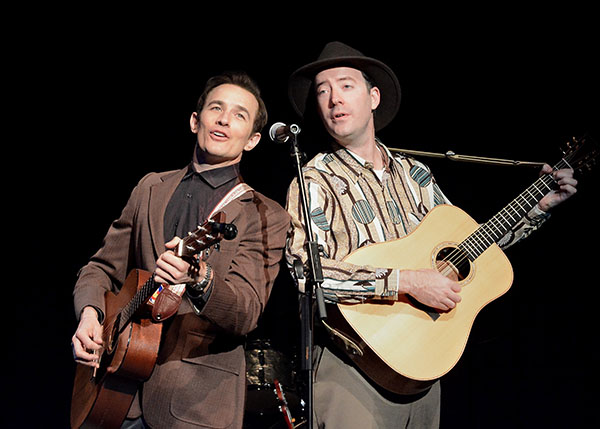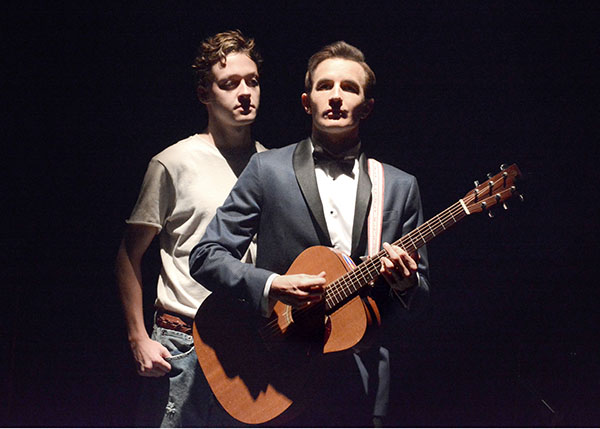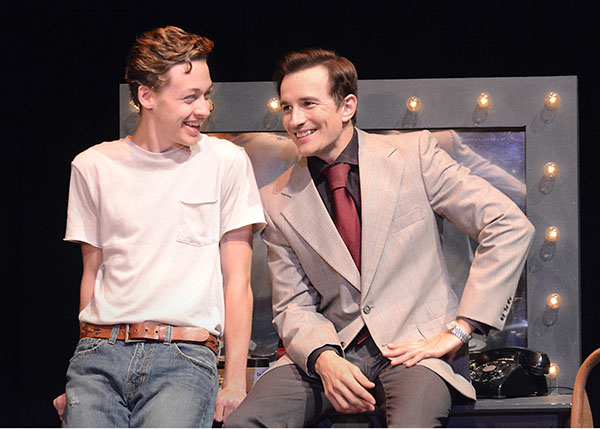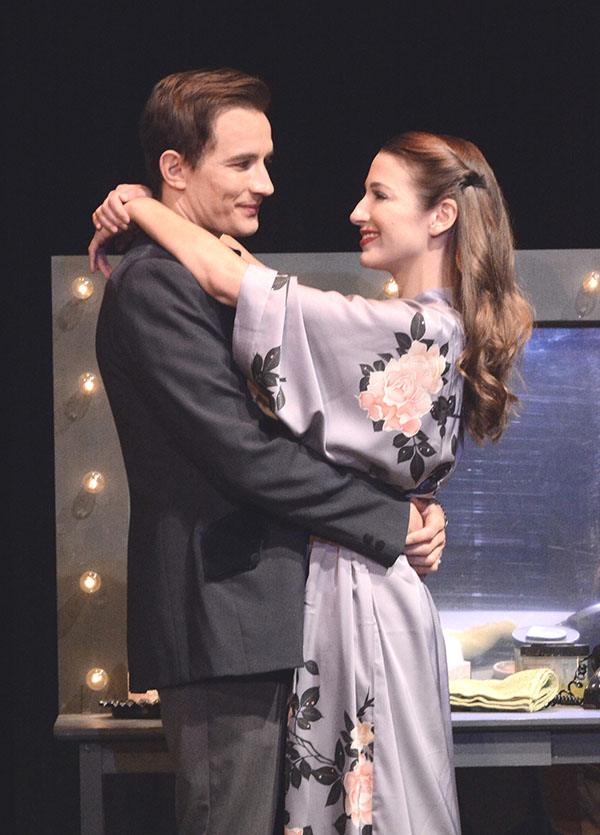 "King of the Road: The Roger Miller Story" Riding a wave of success triggered by his mega-hits, "Dang Me" and "King of the Road," a string of gold records and 11 Grammy Awards, wisecracking country star and Tony-winning Broadway composer (Big River) Roger Miller is forced to face his demons, confront his self-destructive tendencies and to finally, accept love in this world premiere musical! Written by Cort Casady & Mary Arnold Miller, with music by Roger Miller, and directed by Andrew Barnicle, it runs through May 14 at the Laguna Playhouse in Laguna. For tickets call 949-497-2787 or visit www.lagunaplayhouse.com.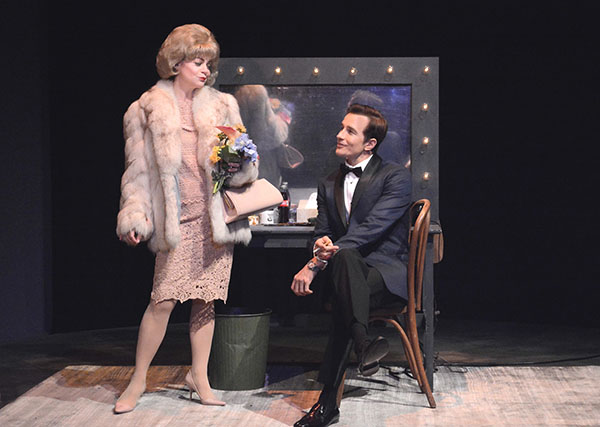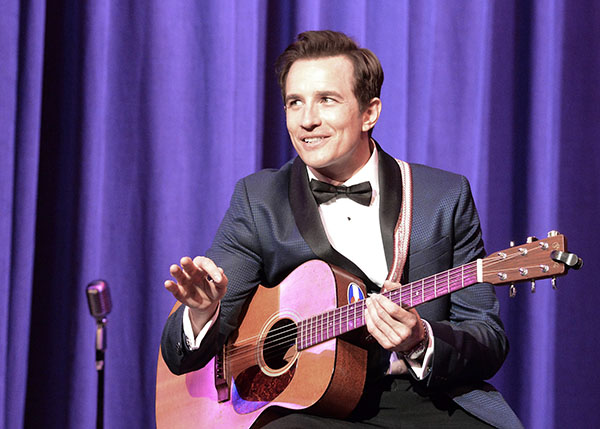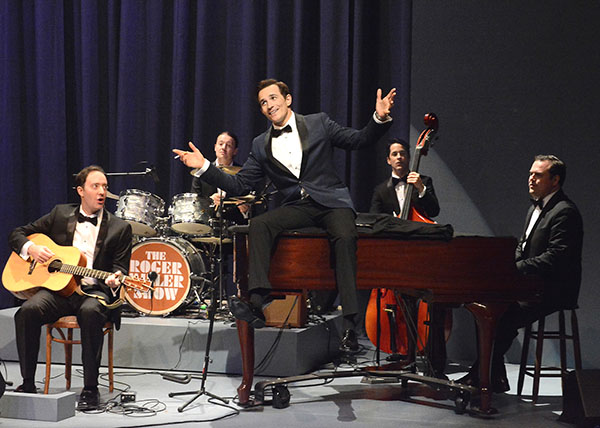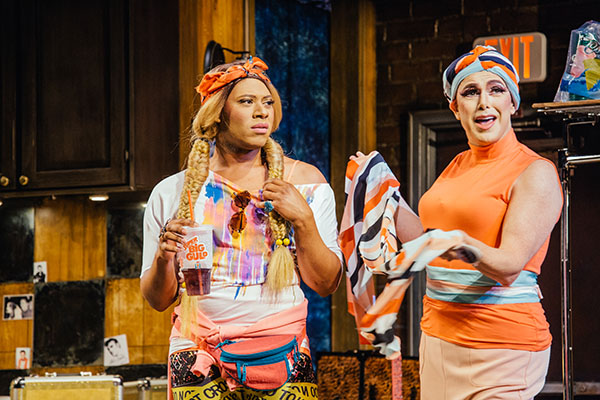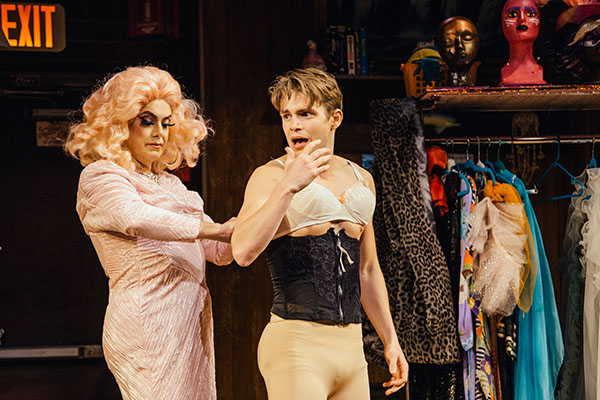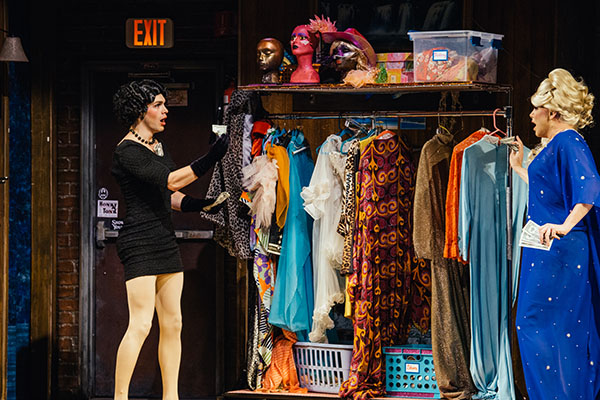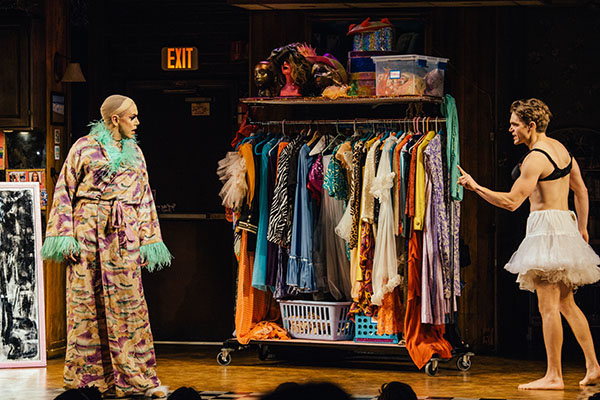 "The Legend of Georgia McBride" tells the story of Casey, who after years of struggling at a small-time club in the Florida Panhandle, realizes it's now or never for his career as an Elvis impersonator. Enter Miss Tracy Mills, a self-proclaimed grand dame of drag who guarantees Casey's life is about to get "all shook up." Matthew Lopez's hip-shakin', heartwarming tale explores what happens when one man trades in his blue suede shoes for platform pumps and discovers he ain't nothing but a drag queen. Written by Matthew Lopez, and directed by Mike Donahue, it runs through May 14 at the Gil Cates Theater at the Geffen Playhouse in Los Angeles. For tickets call 310-208-5454 or visit www.geffenplayhouse.org.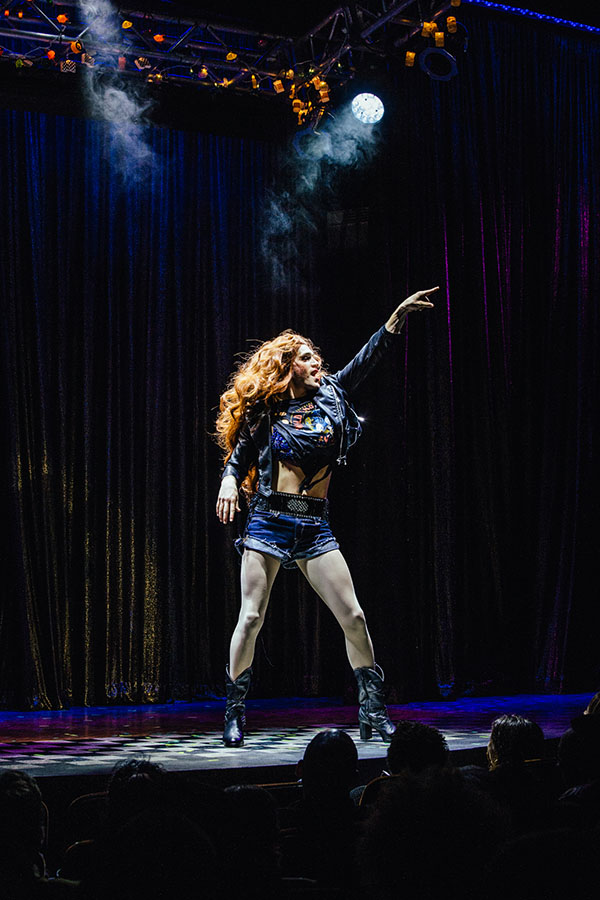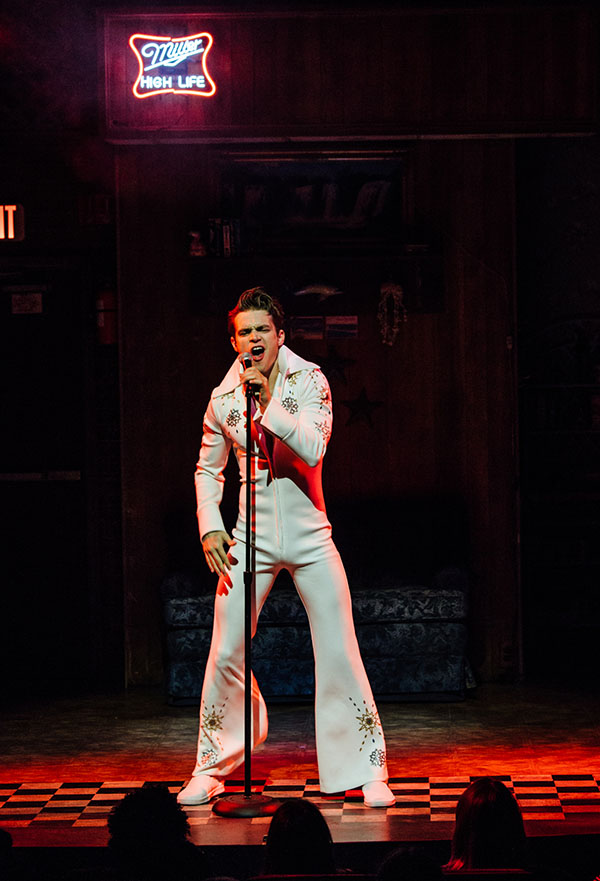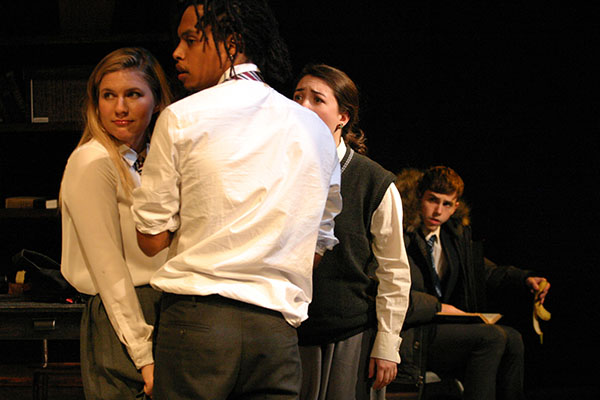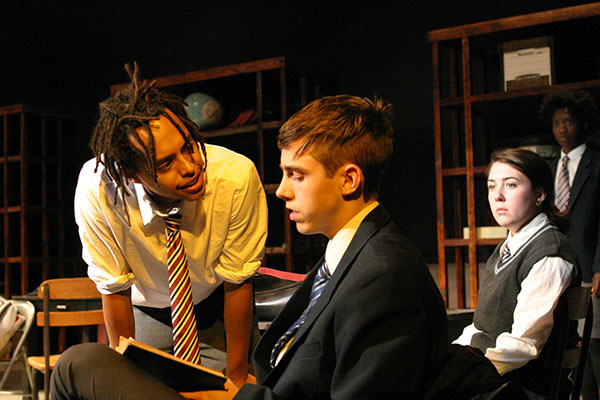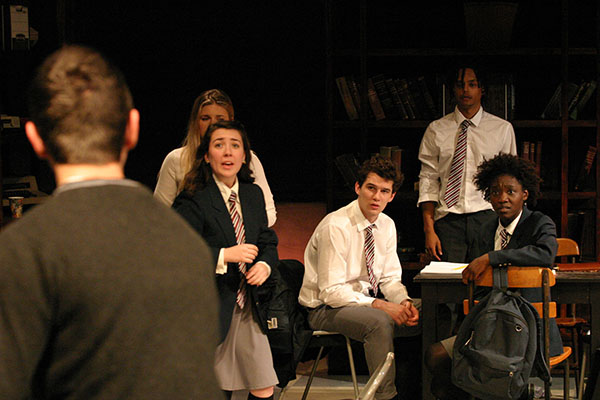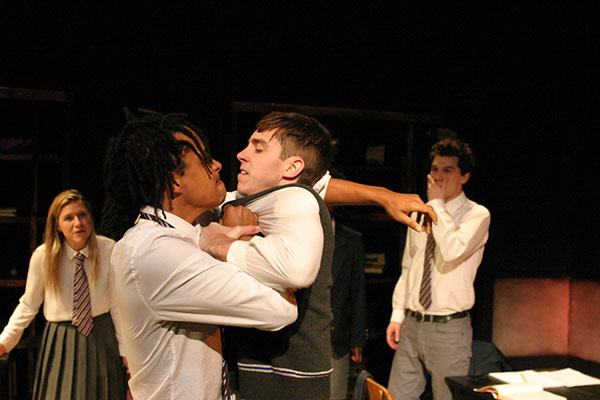 "Punk Rock" A ferociously funny, complex and unnerving look at seven intelligent, articulate teens at an English prep school as they tangle with the pressures of love, sex, bullying and college entrance exams. Based on his experiences as a teacher and inspired by the 1999 Columbine shooting, playwright Simon Stephens (The Curious Incident of the Dog in the Night-Time) peels back the layers of the teenage psyche to look at the confusion, disconnect and latent savagery simmering beneath the surface. Written by Simon Stephens, and directed by Lisa James, it runs through May 14 at the Odyssey Theatre in Los Angeles. For tickets call 310-477-2055 Ext. 2 or visit www.OdysseyTheatre.com.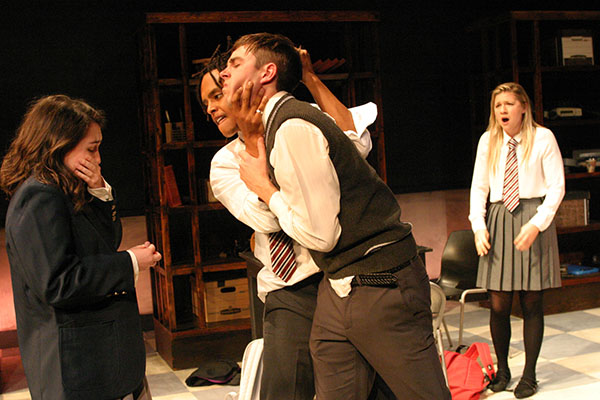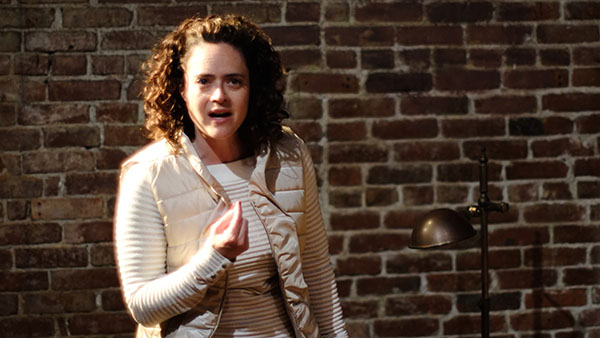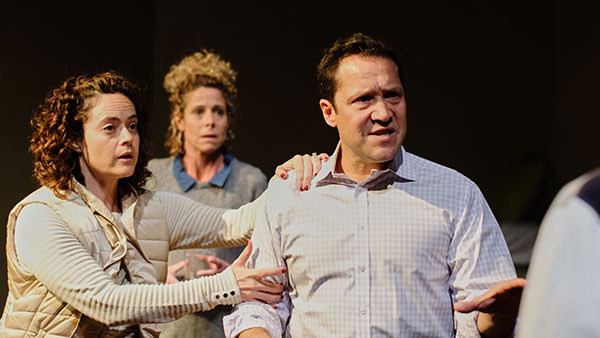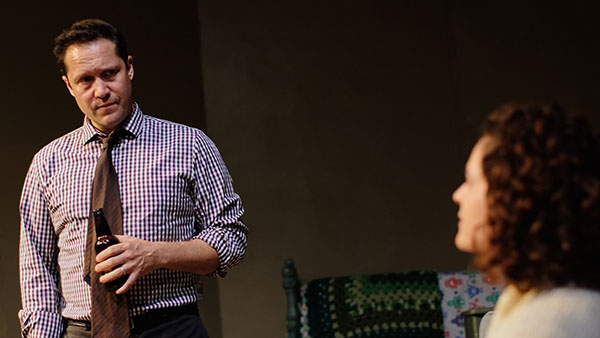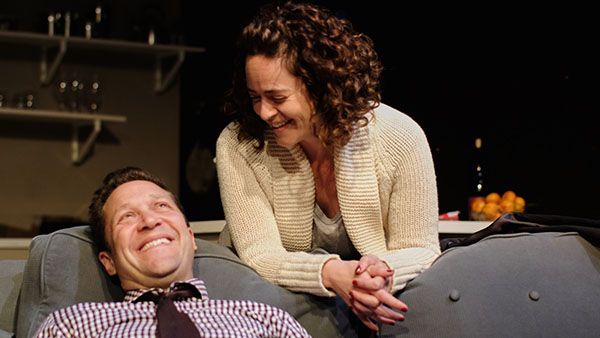 "Rabbit Hole" Becca and Howie, blindsided by a tragic accident, struggle to piece together what was once their picture perfect life in the suburbs. As they negotiate a return to their marriage and what is left of their family, they are forced to confront the depth of their loss and the new realities of life together. Written by David Lindsay-Abaire, and directed by Eric Hunicutt, it runs through May 14 at the Lounge Theatre in Hollywood. For tickets call 917-407-3346 or visit www.Plays411.com/rabbithole.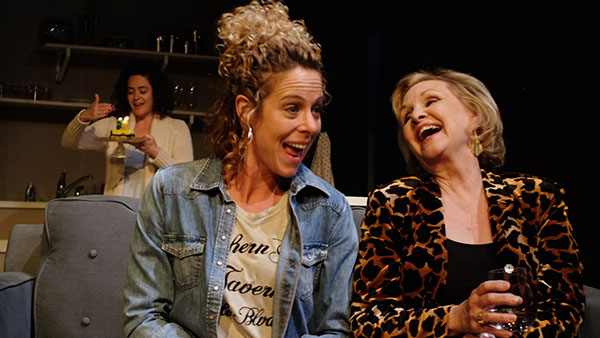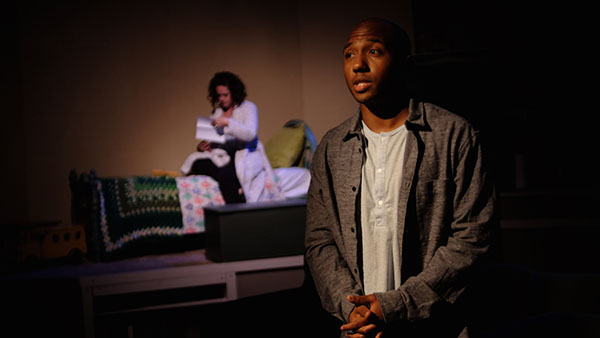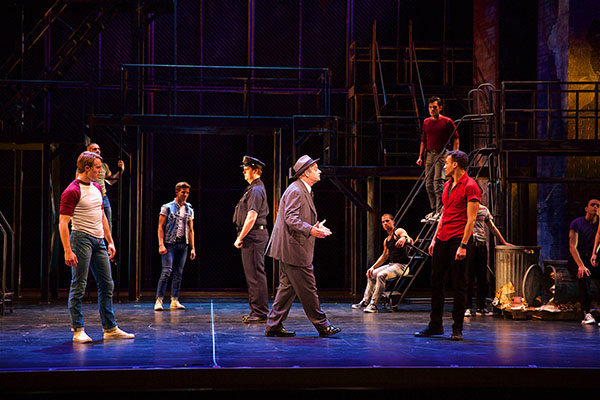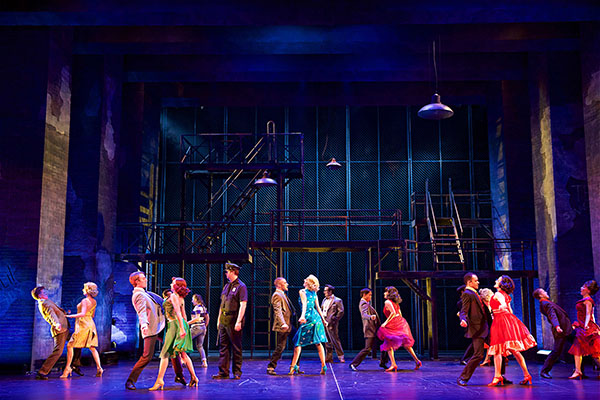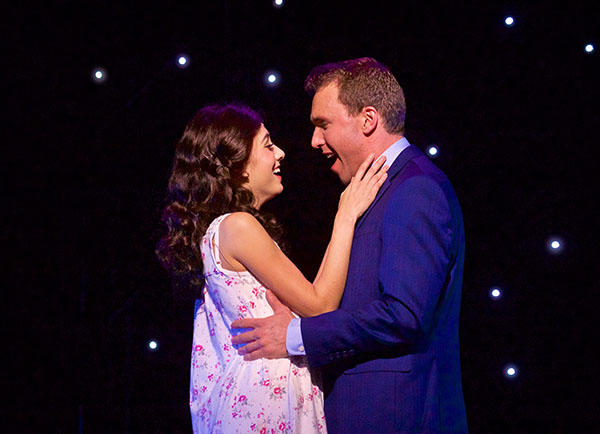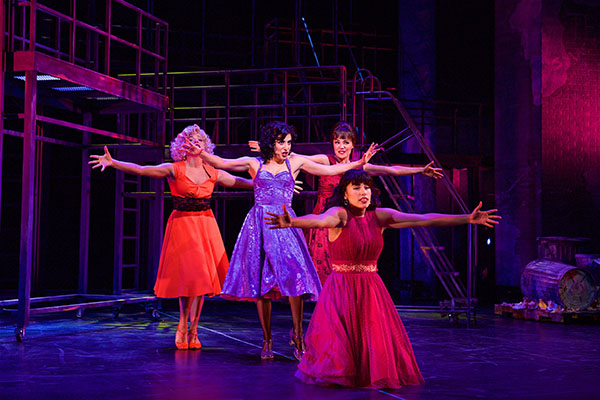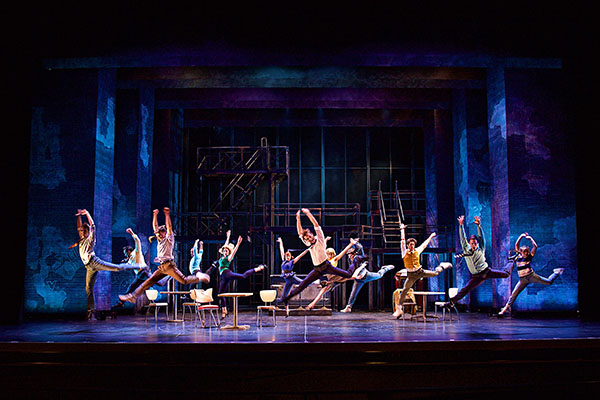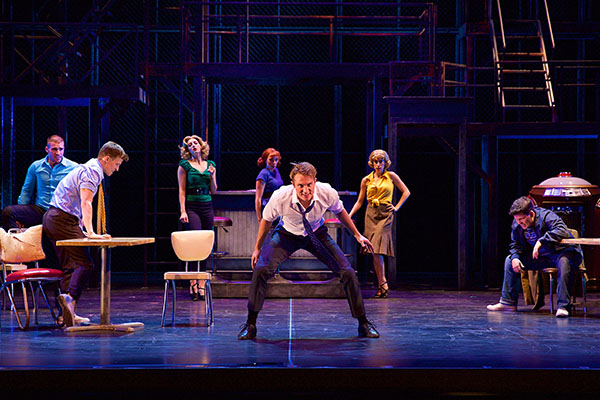 "West Side Story" As powerful, poignant, and timely as ever, the thrilling Leonard Bernstein and Stephen Sondheim score – including "Tonight," "Maria," "America" and the classic "Somewhere," remains one of the best-ever written. Shakespeare's Romeo and Juliet are transported to modern-day New York City, caught between warring street gangs, the Jets and the Sharks. Their struggle to survive in a world of hate, violence, and prejudice is one of the most innovative, heart-wrenching and relevant musical dramas of our time. Written by Arthur Laurents, with music by Leonard Bernstein, lyrics by Stephen Sondheim, and directed by Richard Israel, it runs through May 14 at the La Mirada Theatre for the Performing Arts in La Mirada. For tickets call 562-944-9801 or visit www.lamiradatheatre.com.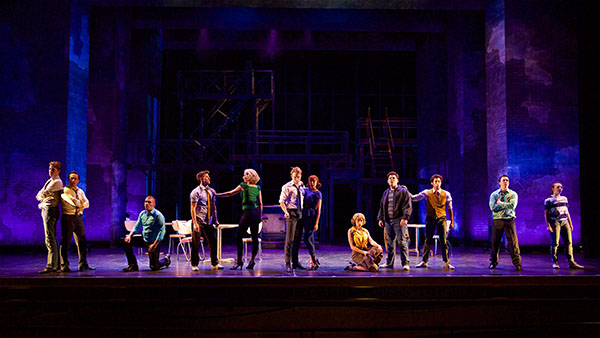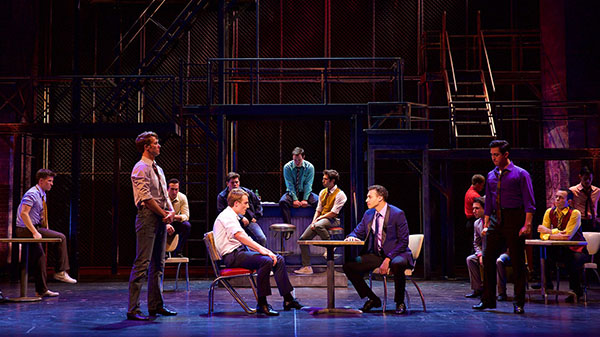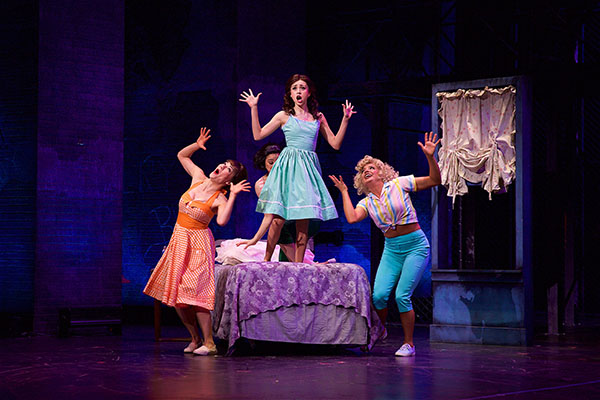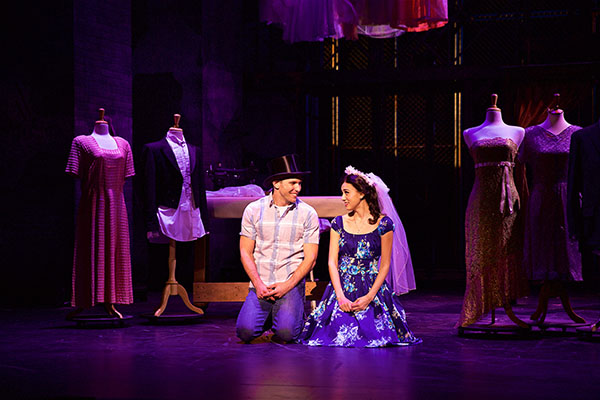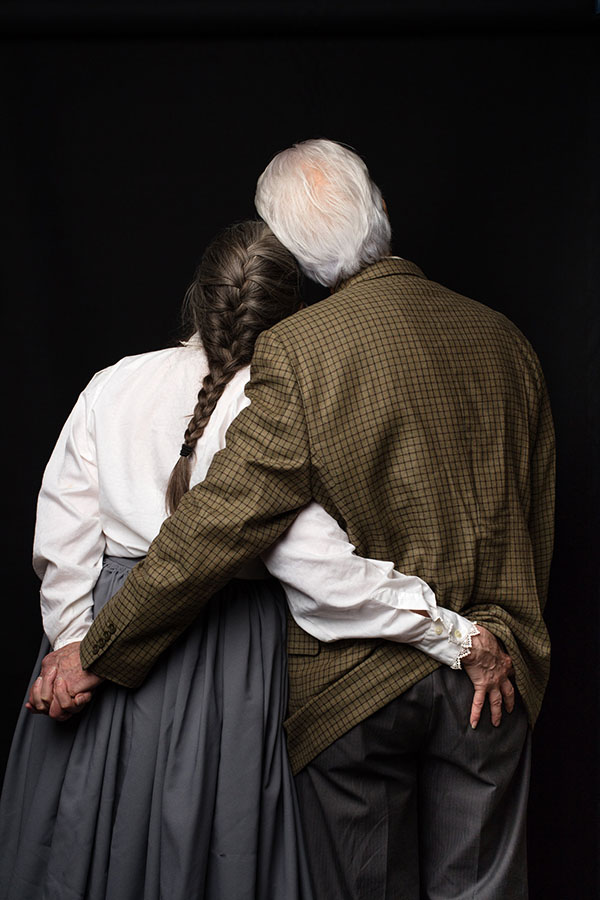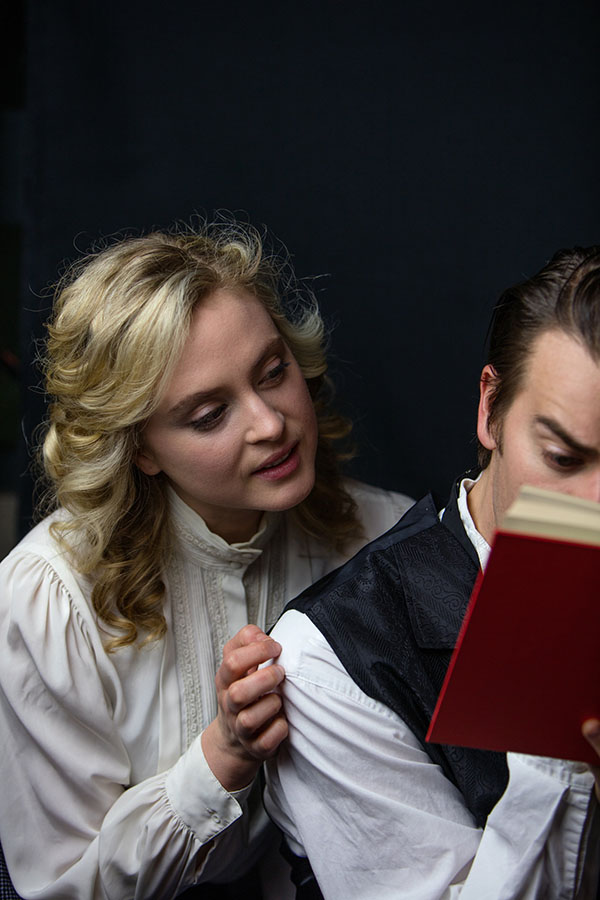 "Ah, Wilderness!" focuses on the educated middle-class Miller family of New London, Connecticut. The plot deals with the teenaged middle son, Richard, and his coming of age in sweet days of early twentieth-century America. Inspired by the play's many musical references and moments, Robman adds period songs to the staging and sound design. It opens with the whole family gathered around the piano singing a lilting ballad from the period. In the days before movies and television or even radio, families often entertained themselves by playing musical instruments and singing – and this togetherness underscores the warmth and congeniality of the Miller family and the play itself. Written by Eugene O'Neill, and directed by Steven Robman, it runs through May 20 at the A Noise Within in Pasadena. For tickets call 626-356-3100 Ext. 1 or visit www.anoisewithin.org.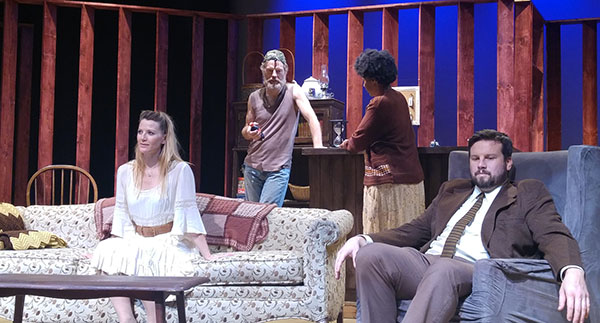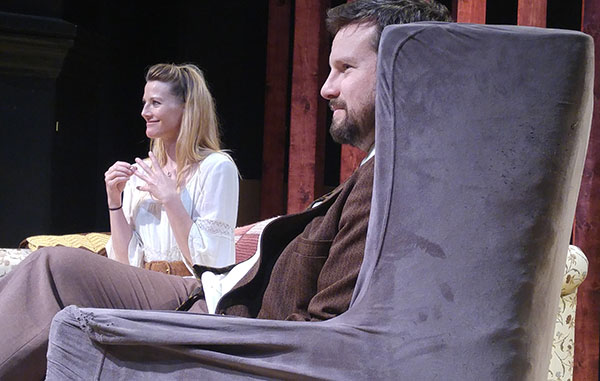 "The Foreigner" unfolds at a fishing lodge in rural Georgia often visited by "Froggy" LeSueur, a British demolition expert who occasionally runs training sessions at a nearby army base. This time Froggy has brought along a pathologically shy young Brit named Charlie, who is overcome with fear at the thought of making conversation with strangers. So Froggy tells everyone that Charlie is from an exotic foreign country and speaks no English. In short order, Charlie overhears more than he should — hilarious and damaging revelations made with the belief that Charlie doesn't understand a word of English. Written by Larry Shue, and directed by Sarah Gurfield, it runs through May 20 at the Miles Memorial Playhouse in Santa Monica. For tickets call 844-486-2844 or visit www.santamonicarep.org.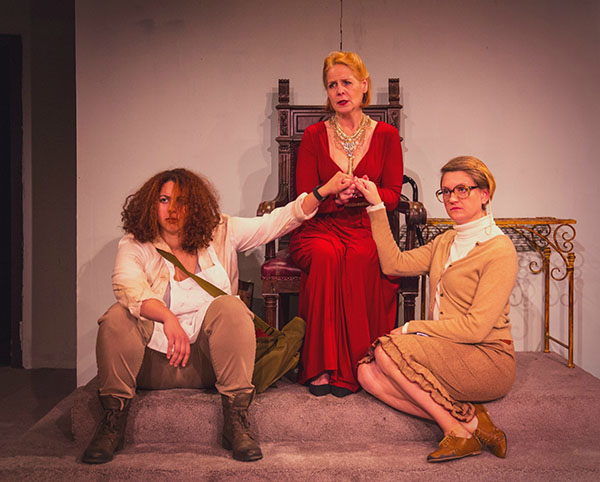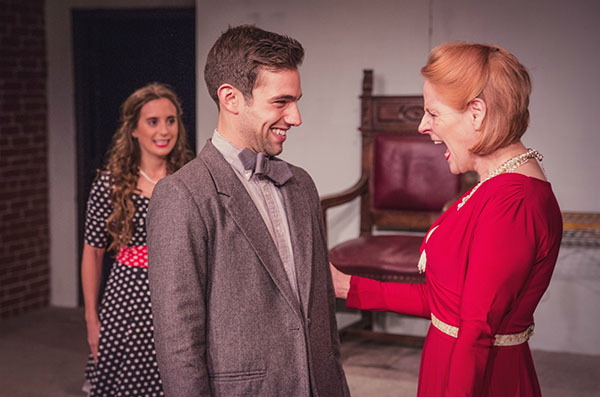 "Red Helen" rules her three grown daughters with a powerful fist. The oldest, Astrid, craves appreciation. The middle, Max, brings home money in wee bloody fistfuls. And the youngest, Bebe, has returned from her travels abroad with a fiancé, seeking her father's approval. But the father is traveling indefinitely, their family steakhouse is in crisis, and Helen's speech is deteriorating into manic loops. As her daughters try their best to break free, Helen pulls out all the stops to keep them in her grip. Written by Jennifer Barclay, and directed by Bill Voorhees, it runs through May 20 at the Theatre of NOTE in Hollywood. For tickets call 323-856-8611 or visit www.theatreofnote.com.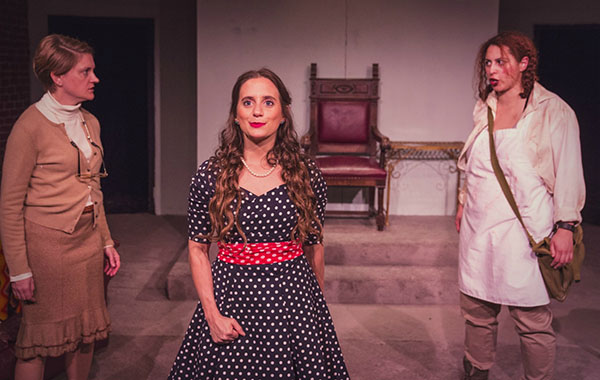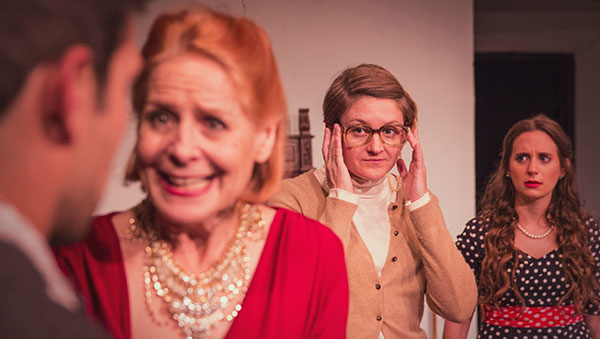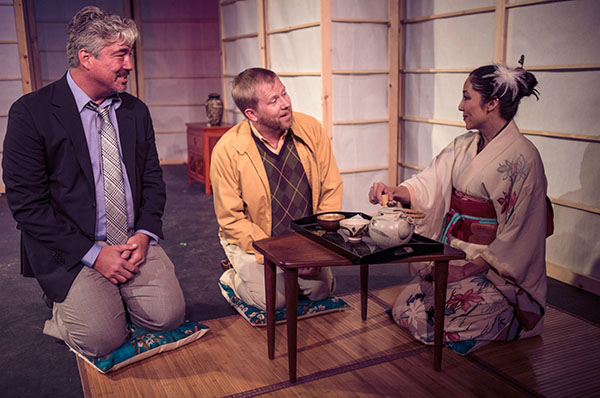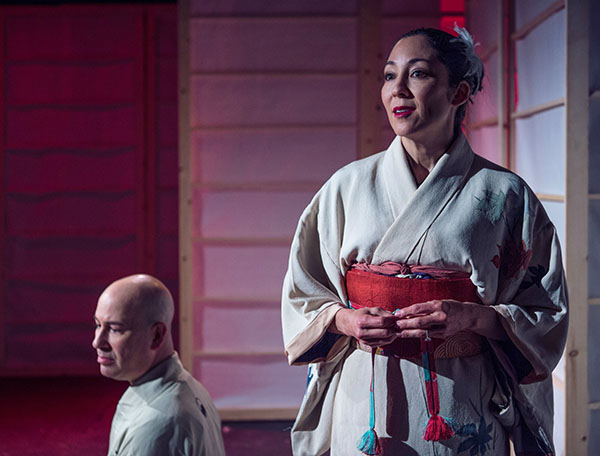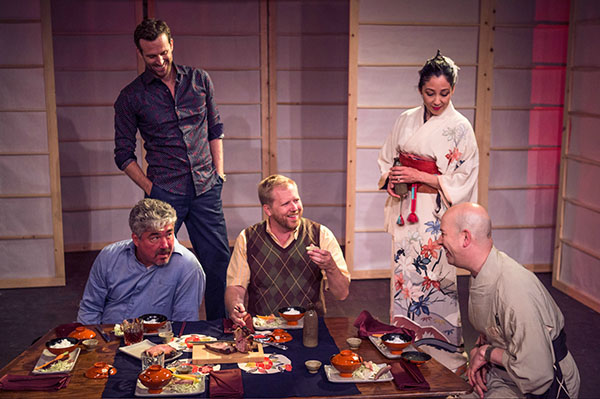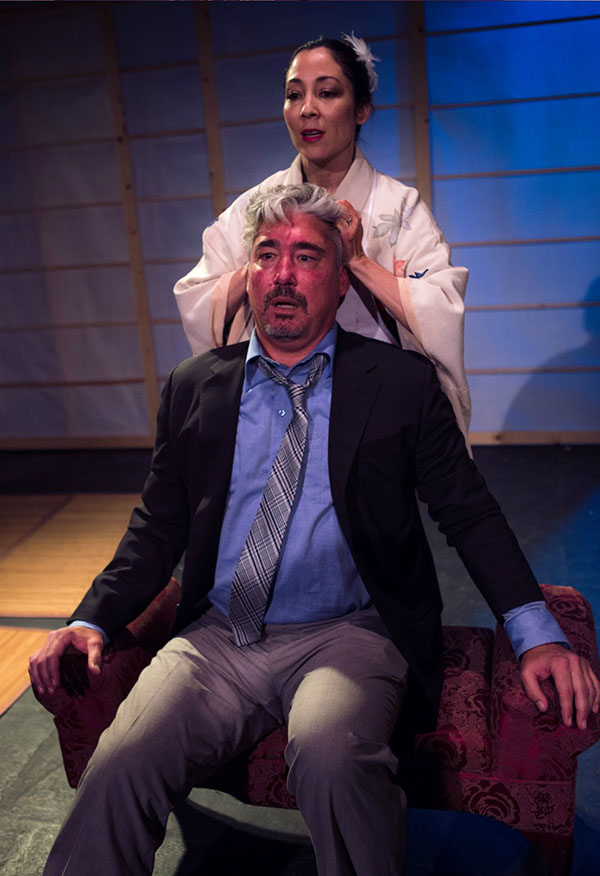 "Supper" The Koch Brothers are infamous, super-rich, right-wing reactionaries from Wichita, Kansas. Trained in business and politics at their father's knee, and bestowed with his oil wealth and his company, Koch Industries, the brothers are litigious multibillionaires who fund ultra-right-wing causes and candidates in an attempt to shape America in their image. This play is definitely NOT about the Koch Brothers. Written by Phinneas Kiyomura, and directed by Alina Phelan, it runs through May 20 at the Theatre of NOTE in Hollywood. For tickets call 323-856-8611 or visit www.theatreofnote.com.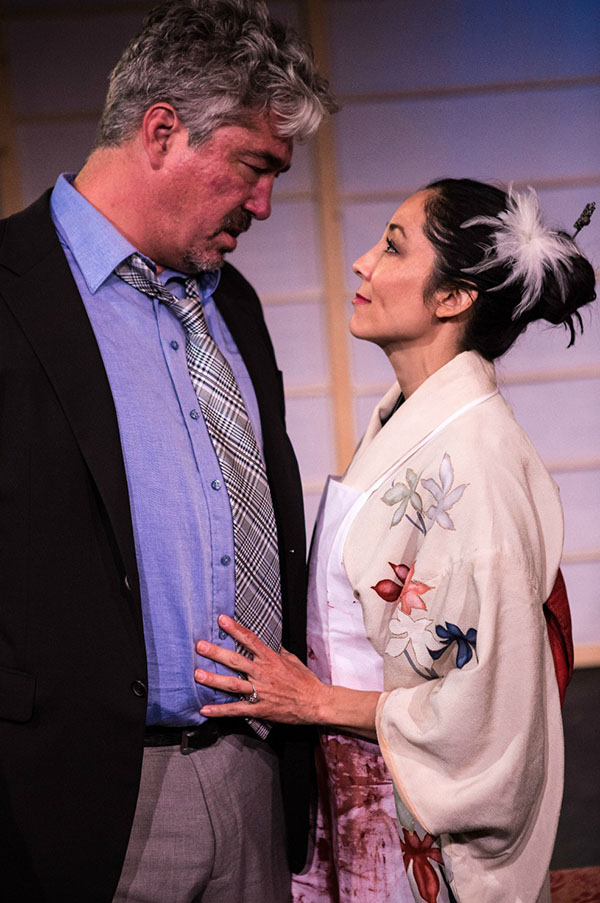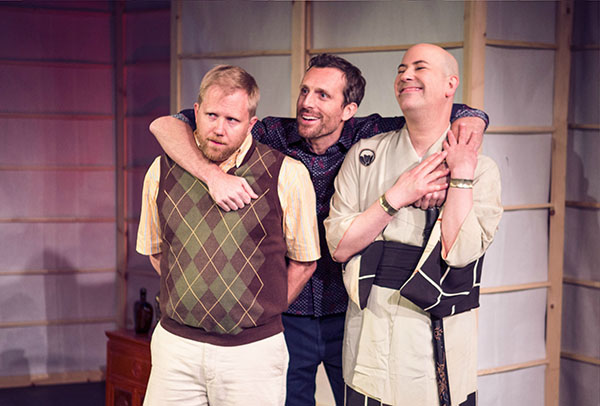 "Allen Wilder 2.0" a director of softcore porn returns from Hollywood to his dead parents' house in Levittown, Long Island, to sort through his belongings and re-examine his life. Can a chance meeting with his former babysitter and his estranged niece soothe the wounds of the failure he feels? Is it too late? His search for redemption gets comic treatment in this new play. Written and directed by Matt Morillo, it runs through May 21 at the Lounge Theatre in Hollywood. For tickets call 323-960-7792 or visit www.kadm.com.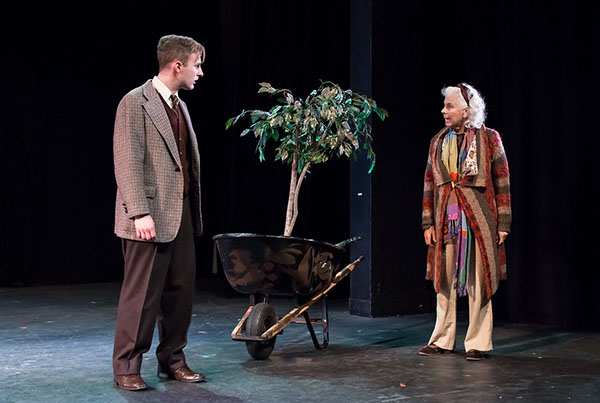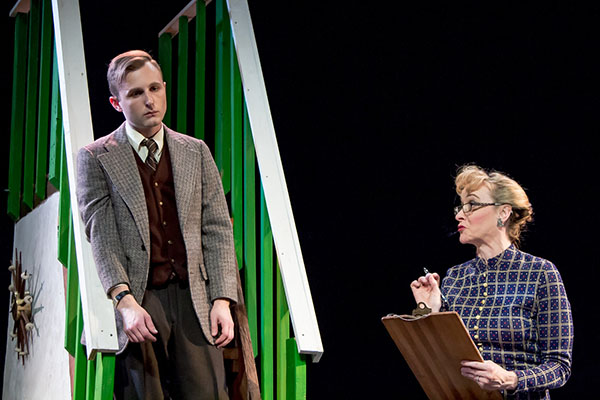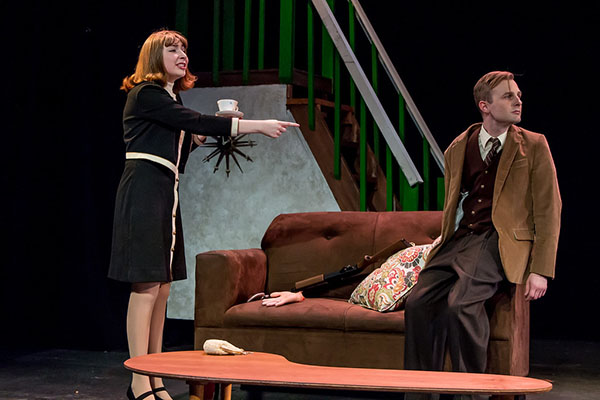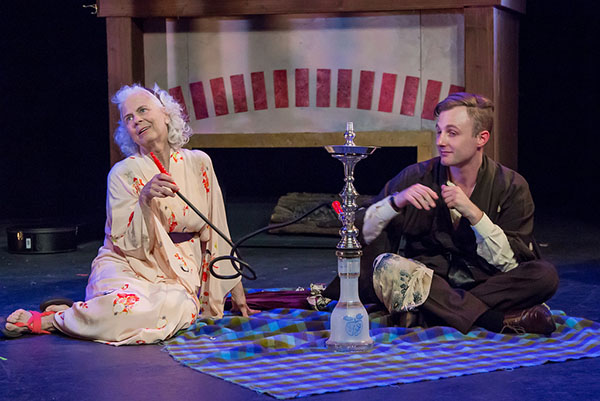 "Harold and Maude" This is a stage adaptation of the movie about a 19 year-old boy who finally learns how to truly live when he meets that delightfully wacky octogenarian, Maude. Harold is the proverbial poor little rich kid—his alienation has caused him to attempt suicide several times, though these incidents are more cries for attention than actual attempts. His peculiar attachment to Maude, whom he meets at a funeral (a mutual passion) is what saves him and what captivates us. Written by Collins Higgins, and directed by Brandon Baer, it runs through May 21 at the Morgan-Wixson Theatre in Santa Monica. For tickets call 310-828-7519 or visit www.morgan-wixson.org.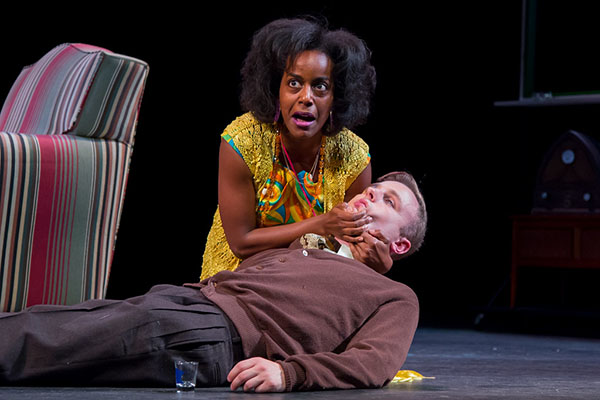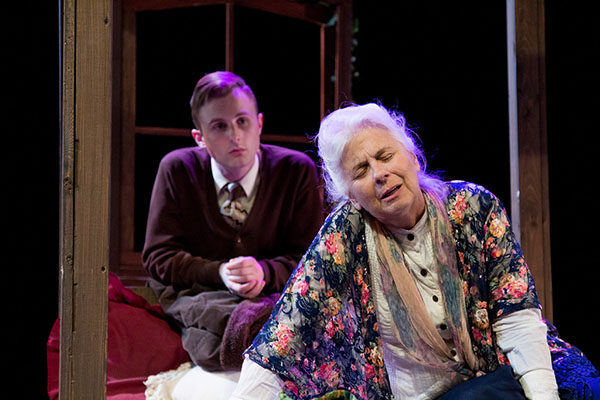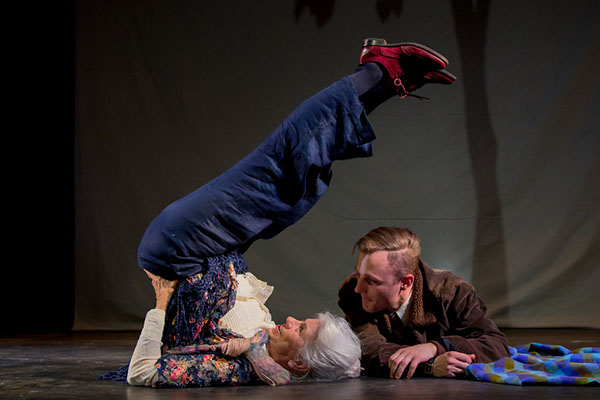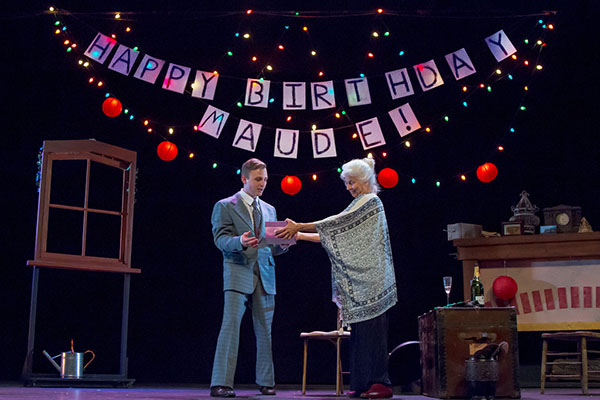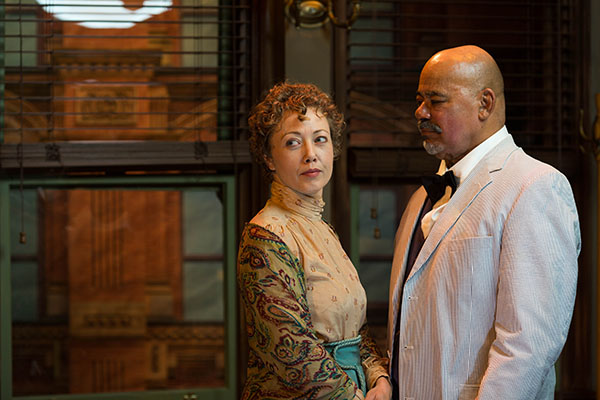 "Dr. Du Bois and Miss Ovington" Dr. Du Bois is intent on resigning from the NAACP, infuriated by the condescension and opposition he has received from white board members of the organization. Miss Ovington believes such a move would be disastrous both for himself and the organization, and she attempts to dissuade him from what she is convinced is a destructive course of action. Complicating matters is the pair's evident attraction to each other, a relationship that would be widely condemned in 1915. Written by Clare Coss, and directed by Ben Guillory, it runs through May 21 at the Los Angeles Theatre Center in Los Angeles. For tickets call 213-489-7402 or visit www.robeytheatrecompany.org.


"Farragut North" A taut and plot-twisting story of political, emotional, and sexual intrigue. During a hotly contested presidential primary campaign a wunderkind press secretary, blinded by hubris, makes a wrong turn. After choosing to walk through "that door" his life, and the lives of others, spin out of control. Set against an all too familiar contemporary landscape, the story reveals the human struggle between ideologies and unbridled ambition. Written by Beau Willimon, and directed by Cathy Fitzpatrick Linder, it runs through May 21 at the Odyssey Theatre in Los Angeles. For tickets call 323-960-7788 or visit www.plays411.com/newsite/show/play_info.asp?show_id=4614.


"Hansel & Gretel Bluegrass" A new version of the classic story set in depression-era Kentucky narrated by Bradley Whitford (in a special video performance) and featuring the rollicking bluegrass sounds of The Get Down Boys. Multiple award-winning 24th Street Theatre (Walking the Tightrope, Man Covets Bird) specializes in sophisticated theater with emotional depth that appeals to kids as well as adults — appropriate for ages 8+. Written by Bryan Davidson, and directed by Debbie Devine, it runs through May 21 at the 24th Street Theatre in Los Angeles. For tickets call 213-745-6516 or visit www.24thstreet.org.



"Pie in the Sky" Starting with the crust and ending with the ping of a timer, two women bake an apple pie. Mama shares her recipe for life in the hopes that her daughter Dory will restart her own. Intimate, poignant, and often hilarious...you'll leave with a warmed heart...and maybe even a slice of warm pie! Written by Lawrence Thelen, and directed by Maria Gobetti, it runs through May 21 at the Little Victory Theatre in Burbank. For tickets call 818-841-5422 or visit www.thevictorytheatrecenter.org.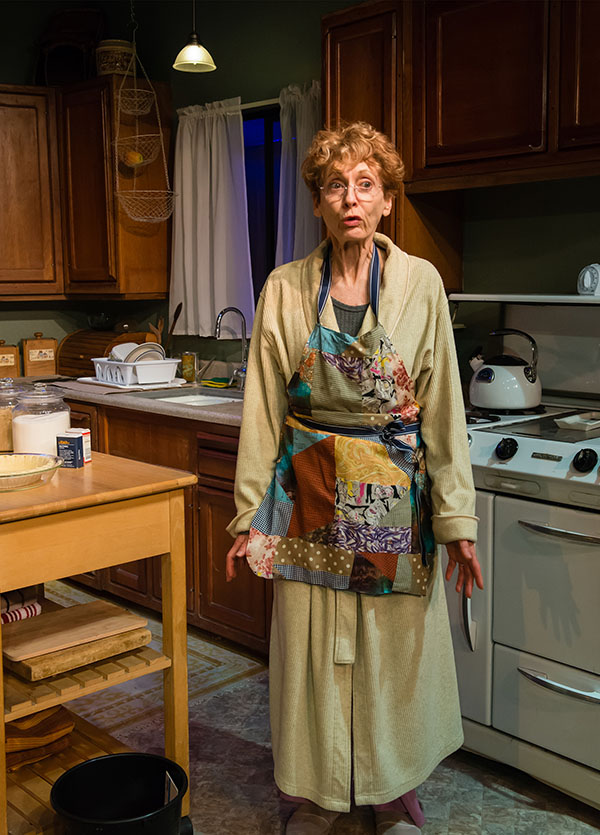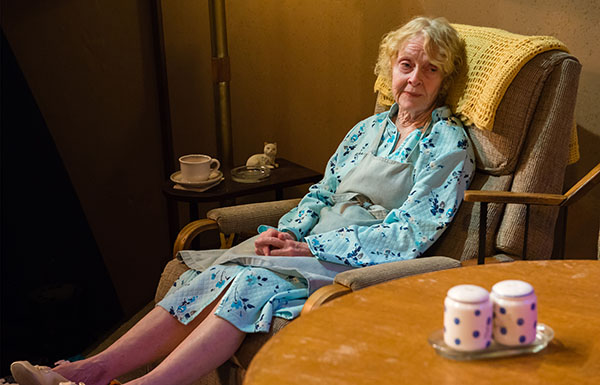 "Pure Confidence" The high-stakes world of Civil War–era horse racing sets the stage for this captivating drama during a time of slavery and Reconstruction. Colonel Wiley Johnson owns both Simon Cato, a smart, cocky 'colored' jockey, and his horse, Pure Confidence. Cato uses his wits and his championship winnings to buy his and his wife's freedom, but the Civil War changed everything. Written by Carlyle Brown, and directed by Marya Mazor, it runs through May 21 at the Sacred Fools Theatre in Los Angeles. For tickets call 323-960-7745 or visit www.lower-depth.com/on-stage.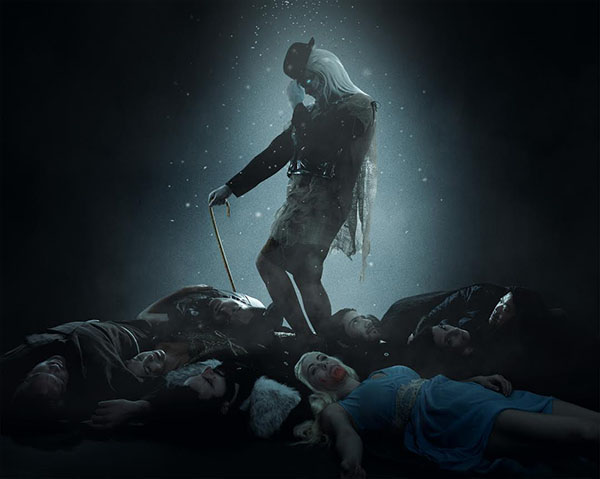 "Thrones! The Musical Parody" As Leslie, Jen, Ross, Brad, Tom and Nicole gather for the season finale of "Game of Thrones," they soon find out the ultimate travesty: that Leslie does not watch the show. Over the course of 90 minutes, the group bands together to act out all six seasons (read: spoilers) for Brad, including dashing men battling White Walkers, ravishing women riding fire-breathing dragons, the infamous Walk of Shame, and so much more! Written by Chris Grace, Zach Reino, Al Samuels, Nick Semar and Dan Wessels, and directed by John Flynn, it runs through May 21 at the Hudson Mainstage Theatre in Hollywood. For tickets call 323-960-5770 or visit www.plays411.com/thrones.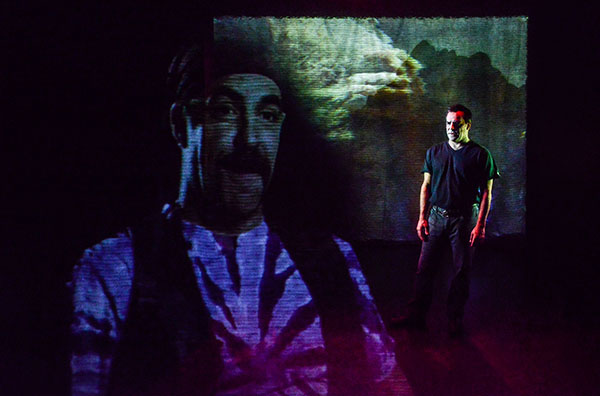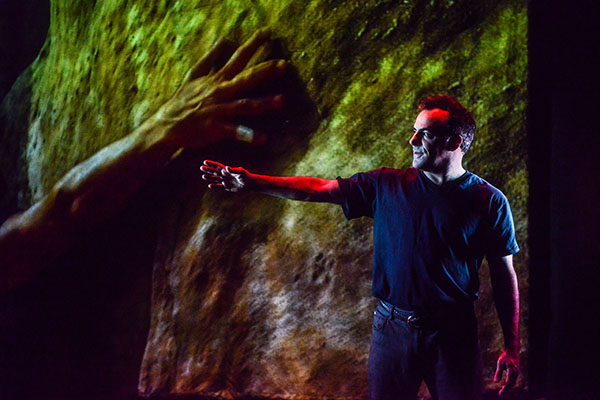 "Plasticity" Blending cutting-edge science with masterful storytelling, Plasticity takes the audience deep inside the mind of David Rosely, even as he lies in a coma. A hovering circle of doctors and loved ones, including David's twin brother Grant, are all played by Lyras in an unusual solo performance: the actor not only creates multiple characters, but interacts with them on stage through the use of integrated projections. Written by Alex Lyras and Robert McCaskill, with music by Ken Rich, and directed by Robert McCaskill, it runs through May 22 at the Hudson Guild Theatre in Los Angeles. For tickets call 323-960-7787 or visit www.plasticitytheplay.com.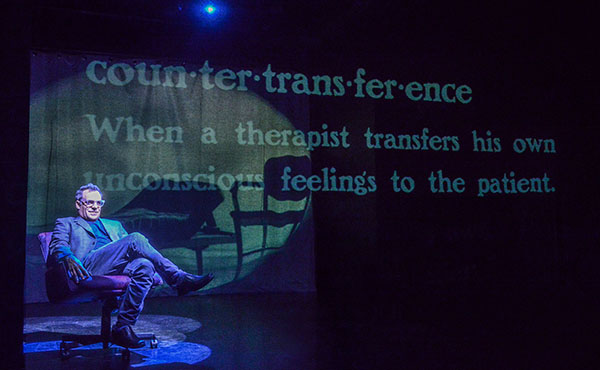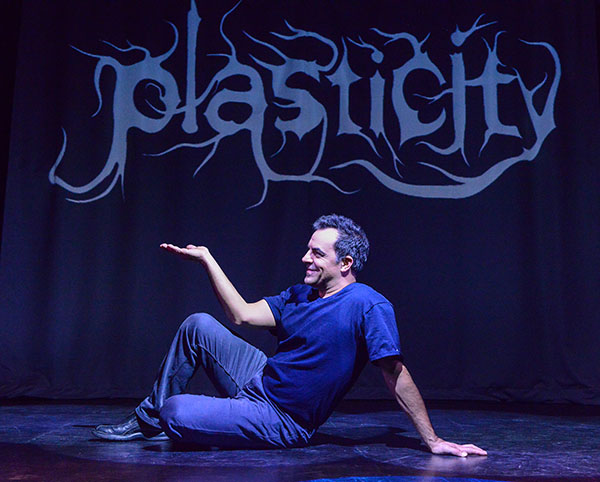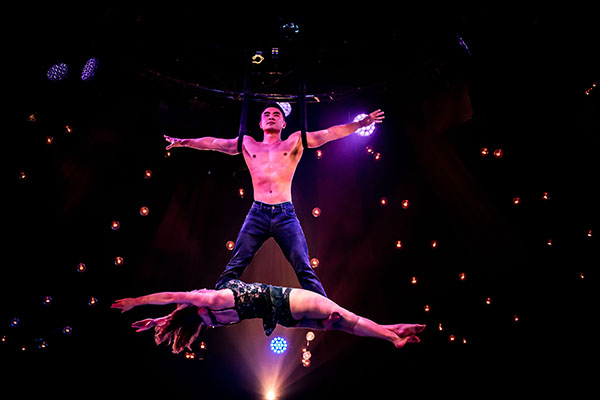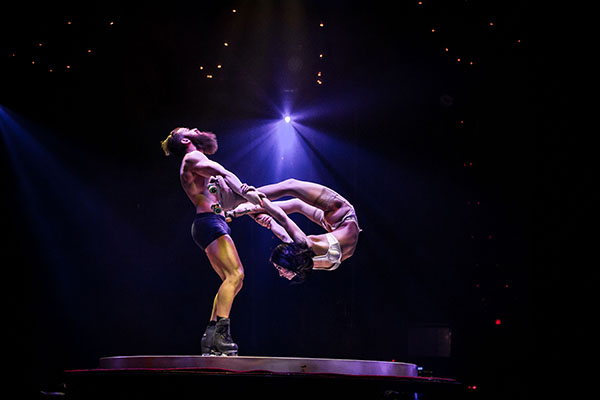 "Absinthe at L.A. Live" cocktail of circus, comedy, burlesque and vaudeville for a 21st century audience. Guests enter the seductively intimate environment of Spiegelworld's tent where the artists perform on a central circular stage only 9 feet in diameter. In Las Vegas, ABSINTHE has been playing to sold-out audiences at the world's most famous casino, Caesars Palace, since 2011 and celebrates its sixth anniversary there in April. Directed by Ross Mollison, it runs through May 28 at the Spiegelworld Tent at L.A. LIVE's Event Deck in Los Angeles. For tickets visit www.AbsintheLA.com.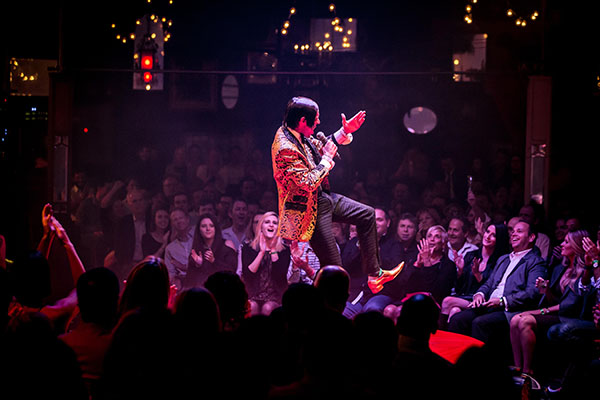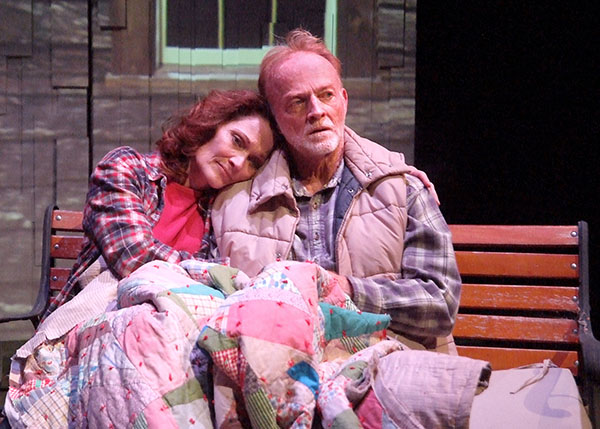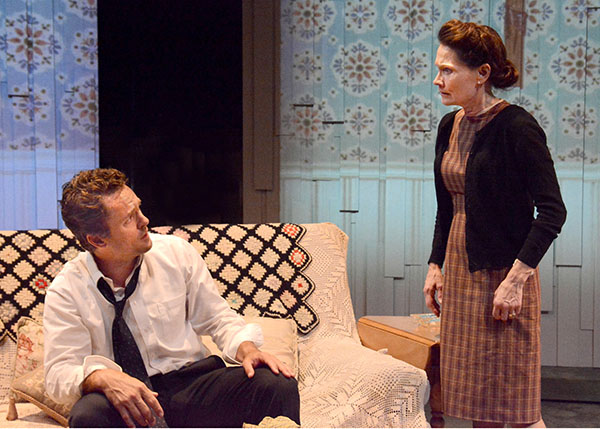 "The Awful Grace of God" an evening of six original one-act plays:
Off, set in 1972 Flushing, Queens, New York, explores the effect that violence has on two friends and how their personal experiences of our world's brutality influence their ability to cope with their respective lives.
Surrender, set in present day Porch, New England, is an exploration of a couple's search for meaning and the power of their love for each other after the passing of their child. The play looks into the potential interpenetrative nature between heaven and earth.
Willy and Rose, set in a present day Motel Room, depicts two people's struggle to love each other and survive in a harsh world. The play explores desperation, aggression and fear expressed through their tragic love affair.
The Long Walk Home, set in 1950 in New York City, is a story exposing powerlessness, loss and the courage of a family to continue on after unspeakable harm has been done while in the grip of addiction.
Need (Shelter from the Storm), set in present day in a Psychotherapist's office in New York, explores the pure force of love and how that love transcends all boundaries when discovered.
Through, set here in the present, is a play about transformative suffering in adversity depicting one person's journey from bondage into freedom.

Written by Michael Harney, and directed by Mark Kemble, it runs through May 28 at the Other Space @ The Actors Company in West Hollywood. For tickets call 323-960-7784 or visit www.plays411.com/graceofgod.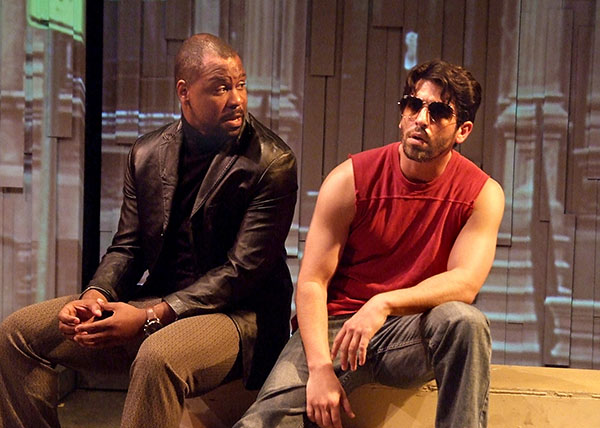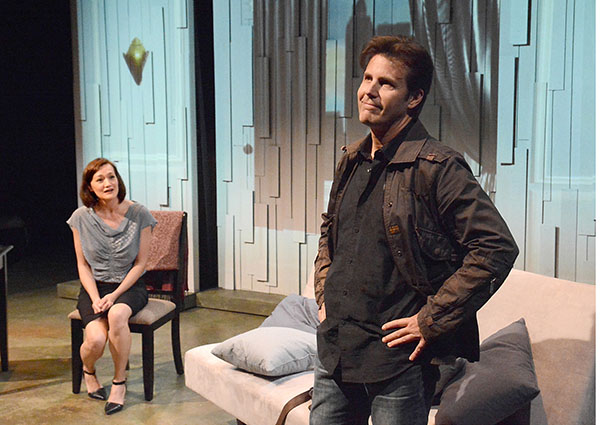 "I'm Not Famous - a Musical Journey with Barbara Minkus" Join us for a funny, poignant and powerful evening of theatre as film, television and Broadway star Barbara Minkus shares private moments, personal tidbits, and a plethora of musical delights. Written by Barbara Minkus, with music by Ron Barnett, and directed by Susan Morgenstern, it runs through May 28 at the Santa Monica Playhouse in Santa Monica. For tickets call 310-394-9779 Ext. 1 or visit www.SantaMonicaPlayhouse.com/im-not-famous.html.


"Man of La Mancha" The fictionalized author 'Cervantes' is the main character of Man of La Mancha. While in prison during the Spanish Inquisitions, he is forced to act out parts of Don Quixote for the other inmates. This story-within-a-story of Don Quixote's musical misadventures – rife with love, chivalry, and of course, four-armed giants – unfurls into something more transcendent: a beacon of hope in a dire world. One of the most important hits of Broadway's golden age, audiences have been dreaming "The Impossible Dream" for the past half century, with the wandering hidalgo in this quintessential tale about the resilience of the human spirit, and the power of storytelling when faced with insurmountable odds. Written by Dale Wasserman, with music by Mitch Leigh, lyrics by Joe Darion, and directed by Julia Rodriguez-Elliott, it runs through June 4 at the A Noise Within in Pasadena. For tickets call 626-356-3100 or visit www.anoisewithin.org.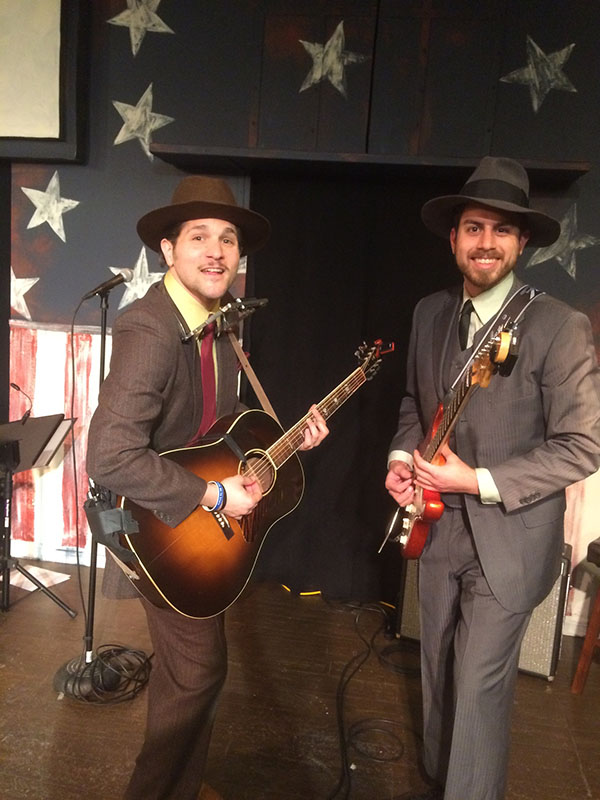 "Roar" is a passionate tribute to protest, as expressed through the voices of Woody Guthrie, Pete Seeger, Joni Mitchell, Bob Dylan and other artists who've raised their voices to challenge authority through song. A musical revue in the vein of The Buddy Holly Story, ROAR stars Davitt Felder as the frontman of protest band The First Amendments and follows the group as they fight for causes of social justice with stirring folk and rock anthems. Directed by Antonia Bogdanovich, it runs through June 4 at the Crown City Theatre Company in North Hollywood. For tickets call 818-605-5685 or visit www.crowncitytheatre.com.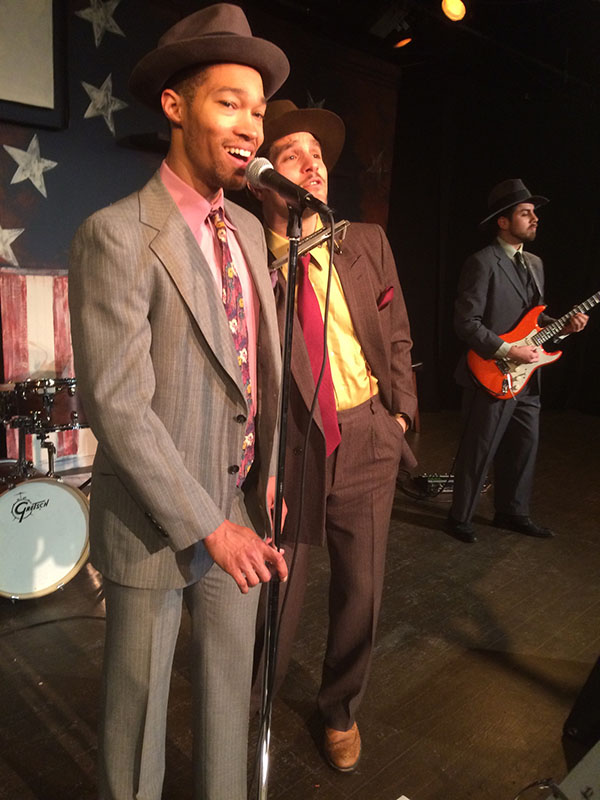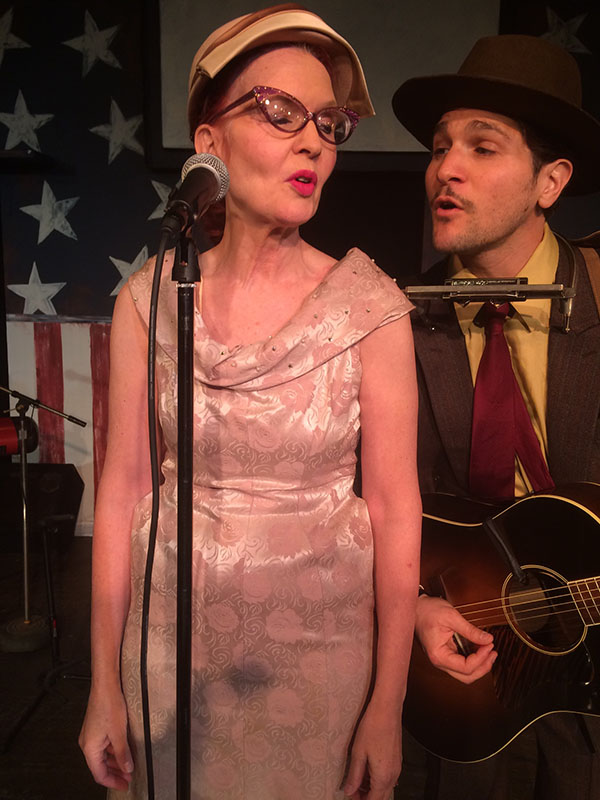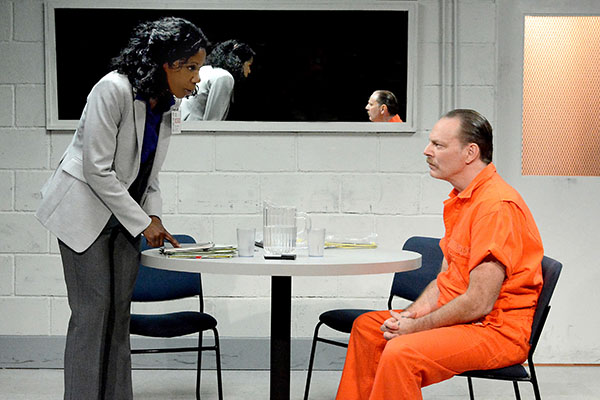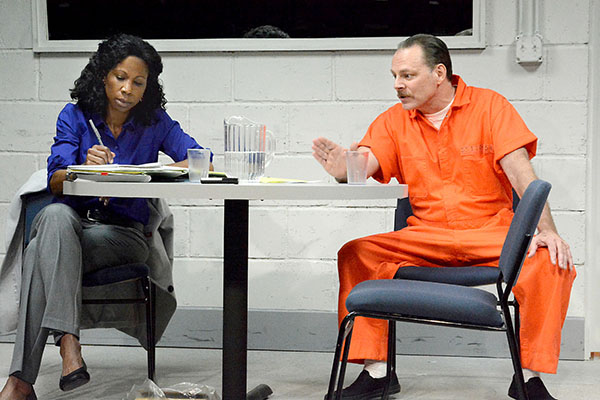 "Building the Wall" In the very near future, the Trump administration has carried out his campaign promise to round up and detain millions of immigrants. As a writer interviews the former supervisor of a private prison, it becomes clear how federal policy has escalated to a terrifying, seemingly inconceivable, yet inevitable conclusion. Written by Robert Schenkkan, and directed by Michael Michetti, it runs through June 18 at the Fountain Theatre in Los Angeles. For tickets call 323-663-1525 or visit www.FountainTheatre.com.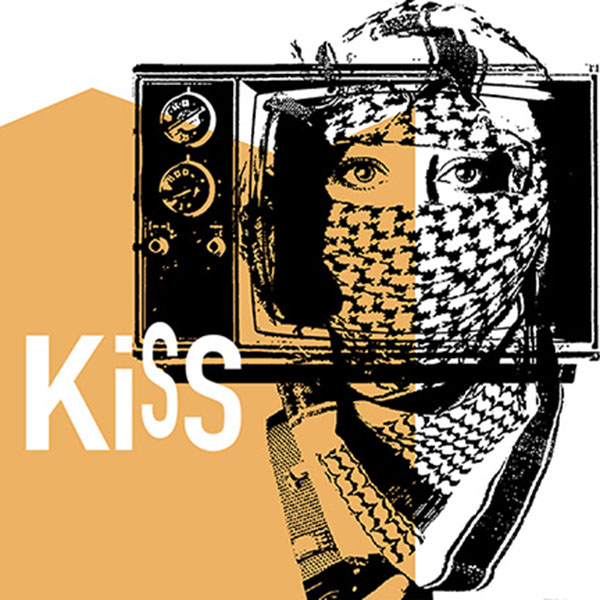 "Kiss" Damascus, Syria: 2014. Two couples meet for dinner to take their minds off the war raging around them. An unexpected profession of love, an untimely proposal and one kiss later, one of the foursome lies dead on the floor. What starts out as a Syrian melodrama quickly takes an unexpected turn. Is anything really what it appears to be? Written by Guillermo Calderón, and directed by Bart DeLorenzo, it runs through June 18 at the Odyssey Theatre in Los Angeles. For tickets call 310-477-2055 Ext. 2 or visit www.OdysseyTheatre.com.


"My Mother's Italian, My Father's Jewish & I'm in Therapy!" Described as, "one part lasagna, one part kreplach, and two parts Prozac," you don't have to be Jewish or Italian to appreciate this show. All you need to know is what it feels like to leave a family dinner with heartburn and a headache! Written by Steve Solomon, it runs through June 25 at the Colony Theatre in Burbank. For tickets call 855-448-7469 or visit www.PlayhouseInfo.com.


"Elevator" When seven strangers—a CEO Woman, Business Man, Office Temp, Hot Girl, Musician, Maintenance Man and Goth Girl—get stuck in an elevator, it's only a matter of time before the truth comes out. When forced together, given nothing but four walls and each other, these archetypes prove to be anything but 'typical.' Their preconceived notions, stereotypes and judgments are challenged at every turn, as one by one, they shed their masks and reveal their truths. Laced with musical sequences and cinematic style, ELEVATOR is a comedic and emotional ride into the human psyche and asks the fundamental question: who are you behind closed doors? Written and directed by Michael Leoni, it runs through June 30 at the Coast Playhouse in West Hollywood. For tickets call 323-960-7787 or visit www.plays411.com/elevator.

Enjoy life more by seeing a show today!